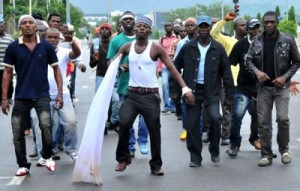 Over 1 million ex-militants and 60, 000 Nigerians who invested in the Virtual Currency Scheme run by one Philemon Gora, have appealed to the National Assembly and the Economic and Financial Crimes Commission (EFCC), issue fresh order to a fourth generation bank to release frozen N12 billion of the scheme's account as earlier ordered.
This appeal was contained in a statement signed by the National Secretary, Third Phase Amnesty, Comrade Tam Odogwu, who on behalf of the ex-militants and over 60, 000 Nigerians said they want peaceful release of the money to Philemon Gora in order for them not to have any major fight with management of the bank.
Odogwu said: "We the ex-militants with over 1 million of us and 60 million Nigerians who invested in the virtual currency scheme appeal to the National Assembly, the National Security Adviser to the President and all security agencies including the Economic and Financial Crimes Commission (EFCC), to direct or order Diamond Bank Nigeria to open the virtual currency scheme to enable us have our money back.
"We are law abiding citizens and that is why we have endured till this day. We really want this issue to be resolved without resulting to any form of hostility. The House of Representative Committee on Public Petition under the chairmanship of Hon Uzoma Nkem-Abonta, has been on this for some time and it is not yielding any positive result.
"Hence, the urgent need for the above bodies to intervene before it will get out of hand and we don't want that, and that is why we are towing the path of peace. It will be good for the management of the bank to also obey the earlier order given to it to release our money based on the wisdom of the House Committee on Public Petition.
"We also implore the above mentioned reputable public organisations to intervene in the matter before we take any action that we would not be blamed for, and that is why we have brought this issue to your notice."
It would be recalled that promoter of the scheme, Philemon Gora, has assured the Chairman, House Committee on Public Petition, Uzoma Nkem-Abonta of paying all the depositors as soon as the account was unfrozen.