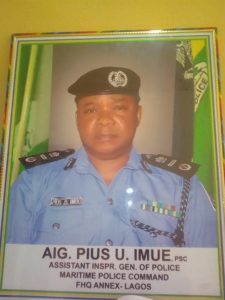 The Maritime Command Police boss, Assistant Inspector-General Pius Imue is dead.
Spokesman of the Command, Sadik Tunde told SHIPS & PORTS DAILY exclusively that Imue died on Monday at about 9am at St Nicholas Hospital, Lagos.
He said the AIG had been in hospital for about three weeks.
"Before his death, he was on life support but we were assured by the doctors that he would recover from the illness.
"Well, it is so sad that we lost a rare gem. We wish he was alive to witness his retirement from the Force come October 2017," he said.
Imue was appointed to head the Maritime Police Command in May 2017.
At a meeting with the representatives of select government agencies and port stakeholders in Apapa, he said his team was fully set for the implementation of the Executive Order signed by Acting President Yemi Osinbajo.
"The Federal Government over the years established the port police. In addition, it has also created the Maritime Police Command, which covers all the ports and inland waterways.
"We are to synergize within ourselves in our own system to ensure that everything and everybody is secured," Imue said.