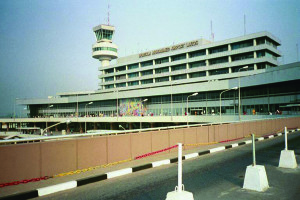 The Federal Airports Authority of Nigeria (FAAN) on Friday confirmed that physical check tables have been removed at the Murtala Muhammed International Airport (MMIA) Lagos.
This signposts the successful implementation of Acting President Prof. Yemi Osinbajo's executive order on ease of doing business at ports of entry.
The order issued by Osinbajo last month with effect from June 8 compels about eight government agencies at the airport to harmonize their screening at the airport.
At the moment, the physical check tables at the departure hall of the terminal have been removed ditto the desks belonging to Nigerian Customs Service (NCS) and Nigerian Drug Law Enforcement Agency (NDLEA).
Managing Director/ Chief Executive Officer, Engr. Saleh Dunoma expressed satisfaction with the level of compliance with the executive order.
He said, "The desks that have been there for manual search are no longer there. The checks are being done at appropriate locations and this has created a tidy hall. This has improved the ambience of the departure hall. Of course, we have some issues that have to do with the first day normally in any operations. We are trying to resolve that.
"We have asked the management of the airport to come up with a complete and comprehensive report with the issues emanating from this operation, so we can further proffer solutions. The whole terminal is very neat and tidy now."
Dunoma implored prospective passengers to always arrive the terminal early enough because of the new arrangement. "My advice to passengers is that they should come in good time, so they can accomplish the process as scheduled. There are some new locations and process of screening, so they earlier the come the easier for stakeholders especially the airlines and the security agencies to finish their procedures", he added.
Commenting on Delta Airlines' alleged flouting of the order, Dunoma said, "It is not anything peculiar. They want to do certain checks; we will tell them where to do the checks. We are not stopping anybody from checking anything, so long as it is in line with global standard of practice. The Executive Order does not stop that. We will handle Delta Airline issue."