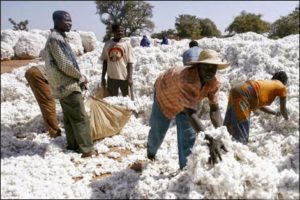 The National Cotton Association of Nigeria (NACOTAN), on Friday, called for an alternative seaport for the export of agricultural produce in the country as a result of the bad port access roads.
The National President of NACOTAN, Anibe Achimugu, made the call in an interview with the journalists in Abuja on Friday.
He said that the investment in providing alternative seaport had become necessary to enable exporters of agricultural produce to meet their supply targets and time at the international market.
Achimuguwho said that cotton production in the country was only for export, noted that the produce requires facilitated export process to meet demands.
He said, "Export is the same, the only advantage we have is that we are not doing perishable items but the situation at the Apapa port affects every exporter.
"Until we get it right, it is going to be a problem because we export based on contract and time.
"The person buying is expecting that the cotton gets to him at a certain time to meet up with his production of textile.
"That affects our export market and ability to meet time.
"Investment in creating another port for the export of agricultural commodities, will not be a bad idea and it is worth it."
Achimugu said that the association was training its members on good agronomic practices to ensure improved production through technologies and programmes.
According to him, NACOTAN has about 67,000 registered members.
"We promote and protect the interest of cotton farmers in Nigeria so basically, we ensure that whatever programmes, interventions, technologies will improve cotton farming, yields, standard of living of our members."