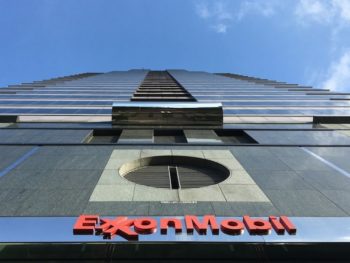 The core communities paramount rulers' forum has opened up on why the authority of the ExxonMobil is reluctant to relocate its headquarters to Akwa-Ibom.
According to the communique that the forum issued on its meeting with the oil giant at the place of the paramount ruler of Ibeno, Owong Effiong Achianga in the state, the firm is afraid of exposing its expatriates to the hazards of environmental pollution.
The communiqué, which was made available to newsmen in Abuja, said that ExxonMobil has always cited insecurity in the region as excuse for not complying with Presidency directive to relocate its headquarters to the state.
"After the meeting of the above-named groups, where deep retrospection was given to the litany of excuses given by ExxonMobil for its barefaced refusal to relocate its operational headquarters from Lagos to Akwa Ibom State, we are compelled to state as follows:
"That the company has always claimed that it was not feasible to relocate at various times in the past because of a number of reasons, including insecurity but the community feels that the American oil giant is simply scared of its shadow;
"That we have it on good authority ExxonMobil is deeply worried about exposing its expatriate and other senior workers to the hazards of the environmental pollution and devastation they have caused through long years of negligent operation;
"That they have refused to move because they know the level of destruction their operations have brought to the land and people of Akwa Ibom State and so they believe the environment is unsafe, health-wise for their senior staff considering the frequency of early deaths and reduced life span of the inhabitants of the area," the communiqué stated. 
The communique also said that the onus for the relocation of international oil companies to their areas of operation, however, rest squarely on the Federal Government of Nigeria. 
It noted that with its 60 percent investment against 40 percent by the Joint Venture Partners, the Federal Government should show commitment and give a clear directive to its partners to relocate.
"Investments in the mainstay of the country's economy should not be managed by "squatter" companies operating from briefcases and computers with a readiness to leave as soon as the oil is finished," it added. 
Copyright Ships & Ports Ltd. Permission to use quotations from this article is granted subject to appropriate credit given to www.shipsandports.com.ng as the source.