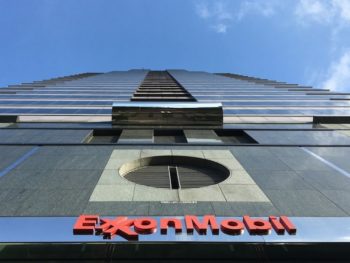 Higher oil prices significantly boosted ExxonMobil's third-quarter earnings, more than offsetting the hit to operations from US hurricanes, the oil giant reported Friday.
ExxonMobil reported earnings of $4.0 billion, up 49.8 percent from the year-ago period. US hurricanes resulted in a hit of $160 million.
Revenues were $66.2 billion, up 12.8 percent.
ExxonMobil's earnings from exploration and production more than doubled those of the year-ago period, mostly due to moderately higher commodity prices during the quarter and in spite of $238 million loss in the US upstream.
The oil giant also saw earnings rise in its downstream division, which is responsible for refining crude oil into gasoline and other petroleum products.
Better refining margins more than compensated for added expenses from Hurricane Harvey, which flooded the Houston area and resulted in temporary plant closures.
"A 50 percent increase in earnings through solid business performance and higher commodity prices is a step forward in our plan to grow profitability," said ExxonMobil chief executive Darren Woods.
"For the fourth-consecutive quarter, we generated cash flow from operations and asset sales that more than covered our dividends and net investments in the business."
Shares of ExxonMobil rose 0.8 percent in pre-market trading to $84.14.
Agency Report