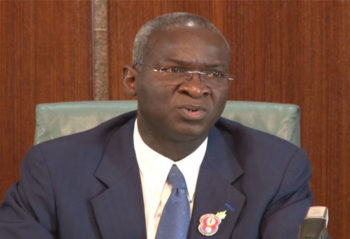 The Minister of Power, Works and Housing, Babatunde Fashola Thursday expressed displeasure over unresolved gridlock caused by the poor state of the road along Apapa wharf road which has continued to cause pain and discomfort to Lagosians. 
Speaking during a stakeholders meeting, Fashola said that as the Christmas period approaches, the situation of things in the area keeps giving him sleepless nights. 
He urged the stakeholders involved to contribute in ensuring that residents of the state no longer go through unnecessary stress as a result of congestion on the road. 
He said, "Exporters and importers need to think about the pain and discomfort they are causing people of Lagos while road repair is going on and they need to think of what to do to ease the pain.
"There are other ports in Warri, Calabar among others. Although it may not be convenient but at least it will reduce pain.
"We also know that the government agricultural policies are working, so there are more agriculture export than what it used to be about four years ago." 
He encouraged Apapa stakeholders to constitute a task force that will monitor the activities of tanker and trucks so that only those that have business at the port are allowed to enter Lagos.