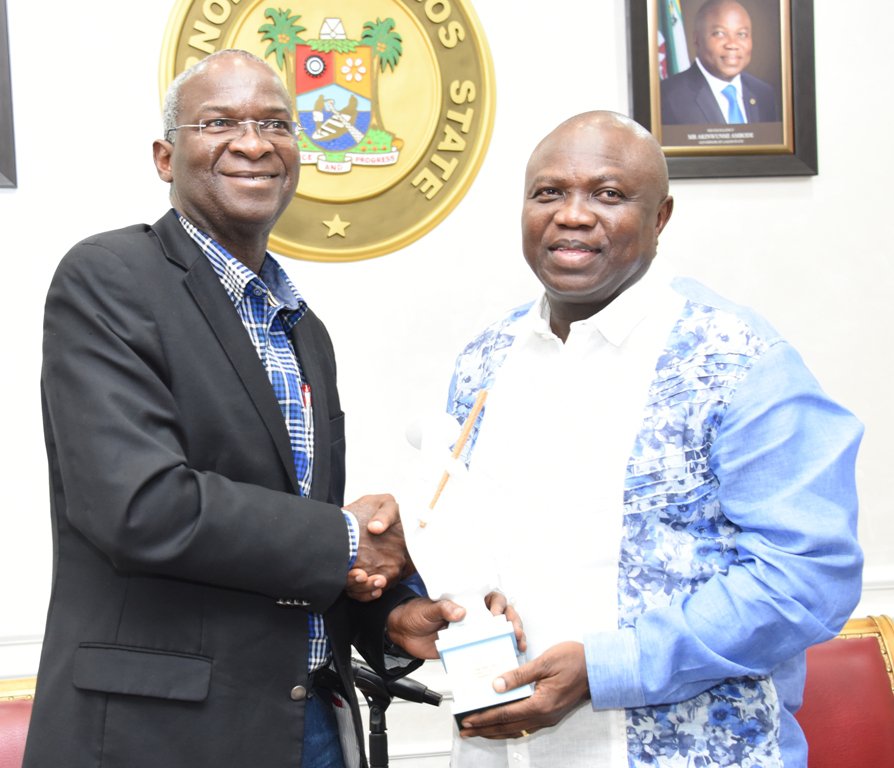 Former Lagos State Governor and the current Minister of Power, Works and Housing, Babatunde Fashola, yesterday visited his successor, Governor Akinwunmi Ambode and said he had made representations to the Federal Executive Council on modalities to pay debts owed State Governments including Lagos State for rehabilitation of federal roads over the years, saying that the debts would be paid through bond instrument.
Fashola, who described the visit to the Governor's Office in Alausa, Lagos as a home-coming, said he had come with his team to Lagos as part of a nationwide project monitoring exercise to inspect the job done so far on Federal Government projects.
The Minister also expressed readiness to assist Lagos State power initiative, especially in rural areas. It would be recalled that Governor Ambode recently set machinery in motion to attain 24-hour power supply through generation of 3,000 megawatts of electricity by 2022.
In his remarks, Ambode lauded Fashola for his achievements during the eight years he was governor of the state.
Describing the visit as historic, he said it was gratifying to receive the Minister for the first time at the Lagos House since he left office on May 29, 2015.
"On behalf of the people of Lagos State, I would like to wholeheartedly welcome Mr. Babatunde Fashola, my predecessor and now Minister for Works, Power and Housing and especially back to the Alausa office where he actually left about 22 months ago.
"I want to say that this is a historic moment for us, notwithstanding that the Honourable Minister lives in Lagos, this is the first time he is stepping his feet into the Alausa premises and we need to honour him for that and say a big thank you for coming back home."
Governor Ambode also lauded Fashola for serving the State meritoriously, saying that his administration improved on the template already laid down during the previous administration.
"We want to say that whatever it is that we have done in the last 22 months is just more or less a fall out of the great achievements the former governor had already put in place.
"We have decided that we would carry on with a sense of continuity in all the things that have been done. I had always said that what we wanted was this continuity of the last 18 years, but continuity with improvement and we are happy that all that has been done in the last 22 months is just a continuation of the template the former Governor left behind.
"We are happy that the sense of collaboration that we have expressed here is what we believe can carry whatever it is that Lagos stands for, moving forward. As you may be aware, Lagos is celebrating its 50 years of existence this year.
"The last 18 years has been so dramatic and historic in terms of the growth and development that we have seen in Lagos, commencing from 1999 when Asiwaju Bola Ahmed Tinubu came into office and the eight good years spent by you and the two years we have done. So, obviously, there is a remarkable change between 1999 and now," Governor Ambode said.
The Governor also pledged to expand the existing collaboration with the Federal Government, saying that it would not only benefit Lagosians, but Nigerians in general.
He assured that the requests made by the Minister in regard to Housing projects of the Federal Government and other road construction would be accelerated, while also expressing optimism that the debts owed Lagos would be refunded.
"I continue to say that we would support the Minister in every way that is possible, everything that we have actually talked about in terms of debt by the Ministry as it relates to projects, the Minister is actually more vast than me in these areas and in this agitations having done the same thing for eight years, obviously he is not somebody that we would want to convert to our passion or our request because he used to be part of what we have always asked for," Ambode said.
Copyright Ships & Ports Ltd. Permission to use quotations from this article is granted subject to appropriate credit given to www.shipsandports.com.ng as the source.