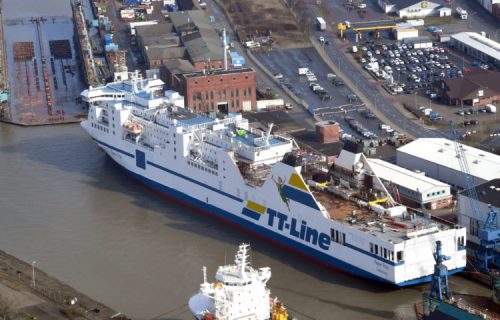 A TT-Line ferry with 217 passengers on board caught fire while en route from Trelleborg, Sweden, to Travemünde, Germany.
The fire broke out just before the Peter Pan arrived in Travemünde, in the afternoon hours of July 9.
The company said the fire on the 44,245 GT vessel was caused by mechanical damage on one of the five diesel generators.
The 51 crew of the Sweden-flagged ferry managed to bring the fire under control but the Peter Pan needed support of two tugboats to moor on dock 7 of the nearby Scandinavia quay on July 10.
As explained by a company spokesperson, the fire remained limited to a single engine compartment and the passengers could disembark shortly after the fire was contained.
TT Line further said that the damage assessment was ongoing, adding that five TT-Line ferries are now available to passengers in a currently slightly modified timetable at this time.