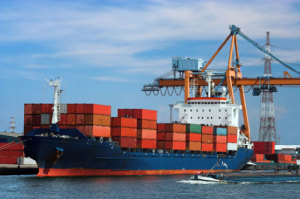 The Minister of State for Transportation, Senator Gbemisola Saraki, has assured ship owners of the Federal Government's commitment to the disbursement of money accrued under the Cabotage Vessel Financing Fund (CVFF).
Speaking during an interactive session with journalists in Lagos on Friday after a weeklong inspection of facilities and town hall meetings with maritime stakeholders, Saraki said the sum of $350 million has accrued into the CVFF account, which is domiciled with the Central Bank of Nigeria (CBN).
The CVFF was established under the Coastal and Inland Shipping (Cabotage) Act, 2003. The law empowers the Nigerian Maritime Administration and Safety Agency (NIMASA) to disburse the fund to Nigerian ship owners through select financial institutions with the sole aim of increasing indigenous ship acquisition capacity. Disbursement of the fund is, however, subject to the approval of the Minister of Transportation upon recommendation by NIMASA.
The Minister described the non-disbursement of the CVFF since it was set up 18 years ago as "a national shame".
She assured Nigerian ship owners that the fund was still intact contrary to speculations in some quarters that it may have been misappropriated.
"The guidelines for the disbursement of the fund have been formulated and would soon be presented to the National Assembly for approval. It would immediately be followed by the actual disbursement of the funds to the already shortlisted beneficiaries.
"The delay in the disbursement is not the fault of the Federal Ministry of Finance but rather more of securing approval of the guidelines for the disbursement from the National Assembly. This would be done in no distant time.
"It is really very disheartening that the fund has not been disbursed but we will work with the National Assembly to ensure its disbursement. Just watch, it has to be disbursed, especially with the coming on stream of the African Continental Free Trade Area (AfCFTA).
"In the course of this visit, I have also interacted with so many stakeholders including the indigenous ship owners. I know the number of vessels that Nigerians had 10 years ago and I know how many they have now."
Many ship owners commended Saraki for her pragmatic approach to solving the challenges facing the maritime industry.