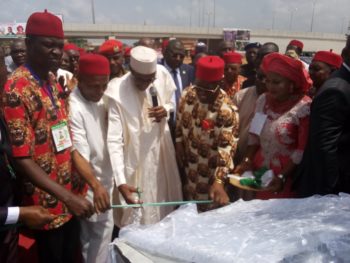 President Muhammadu Buhari says the Federal Government would ensure the rehabilitation of federal roads in the South-East geo-political zone region in 2018.
Buhari said this in Abakaliki, Ebonyi State capital while addressing stakeholders and elders of the state at the Executive Council Chambers of the Government House, as part of activities marking his two-day official visit on Tuesday.
The President stressed the need for all ethnic-nationalities to emphasise the unity and corporate existence of the country.
"This visit to Ebonyi State is a reflection of my firm belief in the unity and corporate existence of the country, which every ethnic nationalities must emphasise always," he said.
He assured that the South-East zone would be accommodated in Federal Government key projects, notably roads and power, as captured in the 2018 Budget recently presented to the National Assembly.
Governor David Umahi had extolled the Federal Government for its numerous support to the state in terms of agricultural facilities and the Anchors Borrowers scheme of the Central Bank of Nigeria, earlier in his speech,.
"I wish to congratulate Mr. President for this honour of visiting the state. It is an honour that is well deserved, it has helped us a lot, especially in the area of agricultural revolution," the governor said.