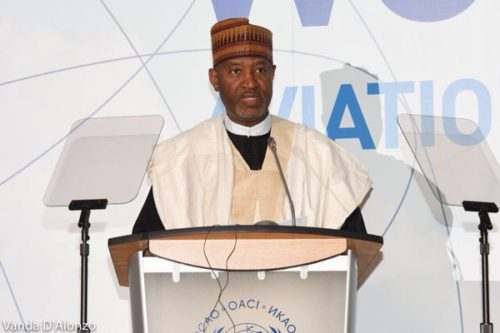 The Minister of State Aviation, Hadi Sirika, has said military queues will be created at the airports as part of measures to appreciate the Nigerian Armed Forces.
The minister also agreed to the Armed Forces requests for special announcements to be made at the airports via the public address system to appreciate the Armed Forces sacrifices to maintain the peace in Nigeria.
Sirika also said dedicated banners to appreciate the Armed Forces will be placed in all airports and aviation agencies across the country even as he promised producing personal stickers to also appreciate the military.
The minister made the commitments on Tuesday when members of the Defence Headquarters Committee for Sensitisation Strategy on Public Appreciation of the Armed Forces of Nigeria visited him in his office.
The committee was led by Air Vice Marshal Jomo Osahor, who said, "We are here as a way of sensitising the public on the need to appreciate the armed forces of Nigeria."
"We will agree that members of the armed forces of Nigeria have sacrificed a lot for this great country. The question is: are we appropriately appreciated?"
He noted that the Chief of Defense Staff appointed the committee to come up with a strategy that will help enable the armed forces to be appreciated adding that a lot of media engagements are happening.
He noted that recently the idea came up that since announcements are regularly made at the airports for various reasons thus there was the need to also use the platform to appreciate the armed forces
"If the announcements are made on the need to appreciate the armed forces on a regular basis at the airports, people will be aware.
"We are all aware the sacrifices the Nigerian Armed Forces are making in keeping the peace, maintaining our territorial integrity and some have lost their lives in the process thus the least we can do is appreciate them," he noted.
According to him, going forward, people or organisation can even come up to ask how they can show support to the Armed Forces.
He noted that "in America if you want to board an aircraft, preference are given to their Armed Forces but we haven't gotten to that yet. All we want is just the appreciation. Even serving military officers are appreciated while onboard an aircraft. If we don't appreciate our own, no one would do it for us".
He also noted that the younger ones are hardly interested in joining the Armed Forces now because all they hear is the risks when we joined.
Copyright Ships & Ports Ltd. Permission to use quotations from this article is granted subject to appropriate credit given to www.shipsandports.com.ng as the source.