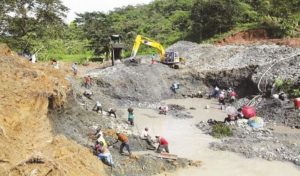 The Minister of Mines and Steel Development, Dr Kayode Fayemi, has said that despite government's efforts, economic saboteurs wishing to undermine the efforts of the Federal Government exist in the sector.
Fayemi said this on Monday at the launch of the Revenue Optimization and Verification Project in Abuja.
Fayemi disclosed that the Federal Government is inaugurating a new model of revenue generation that entails the engagement of consultants to identify leakages in the system.
The Minister, who was represented by the Permanent Secretary in the Ministry, Dr Abdulkadir Muazu, said 100 consultants have been carefully selected for the exercise.
The National Economic Council (NEC) has approved a revenue mobilization strategy that would help the Federal Government to save about N32 billion from leakages in the mining sector.
Fayemi said the consultants would be mandated to collect and analyse data from 2012 – 2017 in the course of their work, thus giving Federal Government the opportunity to demand and receive accruals due to them from the referenced period.