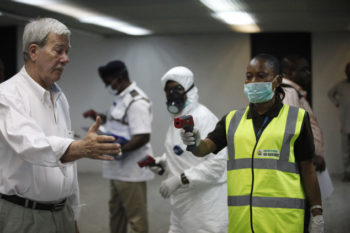 Following the recent outbreak of Ebola in the Democratic Republic of Congo, the Port Health Services and the Nigerian Ports Authority have instituted measures to ensure that the deadly virus does not find its way back into Nigeria through the seaports. 
Port Manager of Lagos Port Complex, Apapa, Hajia Aisha Ali-Ibrahim, informed SHIPS & PORTS DAILY over the weekend that all hands are on deck to intensify screening of seafarers coming into the country through the waterways and also ensure appropriate screening at all entry points into the port. 
She said NPA was giving all necessary support to the Port Health Services to ensure there are no loopholes in carrying out the checks. 
Last week, the federal government urged Nigerians to remain calm as it expressed committed to ensuring that the Ebola disease does not find its way into the country a second time. 
The Minister of Health, Professor Isaac Adewole, said this while inspecting thermal screening machines at the Port Health stand of the Nnamdi Azikiwe International Airport, Abuja.
"We want to assure Nigerians that we have never stopped screening people, it has been going on at the international wing of all the airports in the country, although passengers may not have noticed it," the Minister said. "There is no reason to panic, everything is under control. If there is a need to screen local passengers, we would do that but for now we are concentrating on passengers on international travels." 
The country began health screening at the seaports and international airports during the Ebola crisis of 2014.
The Ebola disease first found its way into Nigeria on July 20, 2014 when an acutely infected Liberian, Patrick Sawyer, entered the country through the airport.
Sawyer, who died in hospital five days later, set off a chain of transmission that infected a total of 19 people, seven of whom died.
The World Health Organisation (WHO) commended the Nigerian Government's strong leadership and effective coordination of the response that included the rapid establishment of an Emergency Operations Centre to end the disease.
Copyright Ships & Ports Ltd. Permission to use quotations from this article is granted subject to appropriate credit given to www.shipsandports.com.ng as the source.