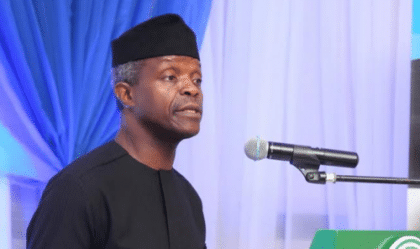 Vice President Yemi Osinbajo on Thursday said the Federal Government requires $1 trillion to modernise Nigeria's energy infrastructure in 29 years.
He disclosed this while declaring open a 2-day National Energy and Climate Change Summit at the State House Banquet Hall in Abuja.
The summit was organised by the Energy Commission of Nigeria (ECN) in
collaboration with the International Energy Charter (IECh) and the European Union.
Osinbajo, who was represented by the Minister of Science and Technology, Dr Ogbonnaya Onu, said the summit would provide a high-level forum to discuss energy and climate change in relation to economic development and environmental protection.
He expressed optimism that the deliberations would provide solutions toward improving sustainable energy supply and access in Nigeria.
The vice president said he was happy that IECh, a reputable energy organisation that promotes multilateral framework for cross-border
cooperation in the field of energy development was part of the summit.
He said, "I recall the ceremony last year, about 18 months ago, in this same hall, when Nigeria signed the International Energy Charter Political Declaration after obtaining the approval of President Muhammadu Buhari; Nigeria then joined the charter as an observer member state.
"I also recall, that the ECN immediately signed a Memorandum of
Understanding (MoU) with IECh secretariat in order to promote such activities that will be beneficial to our dear Nation.
"Following this, a study of the Energy Investment Risk Assessment for
our country has been completed; the report which has just been presented to us here today.
"I am happy that the assessment which featured four performance indicators has scored our energy investment risk as moderate.
"This is challenging in view of the huge investment of about $1trillion required to modernise our energy infrastructure in 29 years from 2014 to 2043.''
The vice president said that Nigeria's energy-related policies were not only geared toward energy supply security but also to mitigate global warming.
Osinbajo said that Nigeria's determined contributions to the Paris Climate Protocol were robust.
He said that to further support private investment, the Federal Government had increased transparency and openness in governance as well as instituted several executive orders to remove bottlenecks in business registrations and permit.
On his part, Prof. Eli Bala, the Director-General, ECN, said that the commission had the mandate and responsibility for strategic planning and coordination of national policies in the field of energy.
He said, "The importance of energy as an instrument for national development as well as international cooperation and diplomacy cannot be over emphasized.
"Modern societies, however, demand that development therefrom must be
sustainable as defined by the Brundtland Commission in 1987 in its report, on Our Common Future.
"This year's summit has the objective of assessing the investment environment in the energy sector for sustainable energy development,''
In a remark, Dr Urban Rusnak, IECh's Secretary-General, advised Nigeria to improve its investment in climate and decrease the risk perceived in investment in the country.
Rusnak said there was need to highlight the importance of a rigorous
impact assessment of existing and proposed policies.
He said without understanding how the policy works and what are the
key performance indicators and to be able to adapt existing policies,
there will be no progress; no possible development.