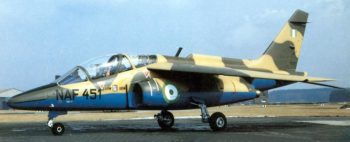 The Federal Government has approved the establishment of a Ground Training Command of the Nigerian Air Force (NAF) in Enugu.
Chief of Air Staff, Air Marshal Sadique Abubakar, on Wednesday performed the groundbreaking ceremony of the Command and also paid a courtesy visit on Gov. Ifeanyi Ugwuanyi of Enugu.
Abubakar, who disclosed that the Federal Government gave approval for the establishment of the command in south-east earlier in the year, said that the new command along with other units across the country would add value to the task of ensuring Nigeria's territorial security.
It is expected that the new command, which would be given accelerated attention, would have a referral hospital to cater for the health needs of the personnel and host communities.
He said, "The base will take off immediately because there are so many intervention works that will be carried out in the next six months at the new site.
"We hope to establish a referral hospital that will cater for our personnel and host communities."
The Air Force chief also said that the Air Force Secondary School in Enugu would be upgraded and the infrastructure expanded with a special intervention fund.
He said, "We are working hard to see that the ground training command takes off very soon as well as get our forces deployed as quickly as possible.
"We will continue to work together with other security agencies to ensure that our people are safe."
Abubakar said that the major hindrance to the take-off of the project was accommodation, which according to him the state government was helping to sort out.