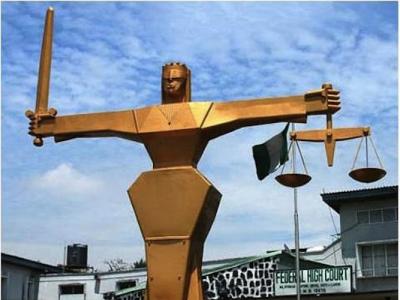 Attorney-General of the Federation (AGF) and Minister of Justice, Abubakar Malami (SAN) on Wednesday opposed bail applications by two businessmen, Ayogu James and Ifeuwa Moses, who were arraigned at the Federal High Court in Lagos for allegedly importing 1,570 pump action rifles illegally.
Prosecuting counsel/director in the Federal Ministry of Justice, Julius Ajakaiye said the alleged offence was grave.
Defence counsel Mahmud Mogaji (SAN) and Wale Adesokan (SAN) urged the
court to grant their clients bail on liberal terms.
They disagreed with the prosecution's contention that the case bordered on national security, adding that the defendants would not interfere with the witnesses or jump bail.
But Ajakaiye urged the court to dismiss the bail applications for the sake of national security.
He cited appellate court decisions in which similar bail applications were dismissed of the ground of national security.
Ajakaiye said Moses, who allegedly shipped the illegal firearms, was elusive for more than a year and was eventually arrested by security agencies.
The defendants were accused of conspiring with Great James Oil and Gas Ltd and Emeka Umeh Festus a.k.a. Amankwa to import the rifles between November 6 and 20, 2017 using a 1-by-20ft container marked GESU 2555208.
Moses and his alleged accomplices were accused of forging a bill of lading marked ISB0281398 issued on July 28, 2017 to read Guangdong-China instead of Istanbul-Turkey with intent that it would be acted upon as genuine by Customs officers.
They were also alleged to have forged a bill of lading numbered ISB0281398, issued on July 28, 2017, to read: "230 packages of wash hand basin and W/C" as the container's content.
The alleged offence is contrary to section 1 (2) (c) and 1 (14) (a) of the Miscellaneous Offences Act, Cap M17 of the Laws of the Federation 2004.
Umeh, who was said to be at large when others were arraigned, was brought to court yesterday.
Justice Saliu Saidu ordered that he be remanded in prison pending when the AGF would consolidate the charges.