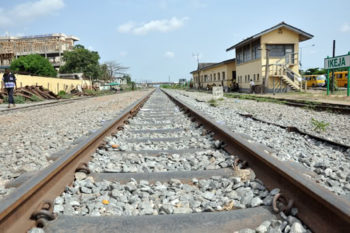 The Federal Government has ordered the completion and commercial operations of the Ajaokuta-Itapke-Warri rail line by June 2018.
Minister of Transportation Rotimi Amaechi gave the order yesterday during the inspection of rail facilities at the Ajaokuta-Itapke-Warri rail line around the Agbor and Abraka corridor, Delta State.
The project is a standard gauge line developed about 30 years ago by Julius Berger and TEAM Nigeria Ltd (TNL) to transport limestone and other solid minerals within the Ajaokuta, Itapke and Warri industrial axes. The facility traverses Kogi, Edo and Delta states.
However, it has since been abandoned by successive governments while parts of the line between Ajaokuta and Itapke were vandalized.
Amaechi said the contract for the rehabilitation of the vandalised rail tracks will soon be awarded to CCECC while JB will complete the other facilities like the 22 over-pass bridges out of the 99 items, and vegetation clearing for the line. TNL is also providing the engineering consultancy services, he said.
The minister said some funds were released last year to Julius Berger to complete work on the over-pass bridges. JB will also complete the ancillary services at the marshaling yards at Agbor Railway Village. The facilities include; the locomotive workshop, the sewage treatment plant and the power plants.
He also directed Julius Berger to submit the entire cost of completing the rehabilitation. The company agreed to submit the cost estimates in two weeks.
Amaechi said the projects must be ready for commercial use not later than June 2018.
"From Itapke down to Ajaokuta is bad. They've stolen everything. Most of the steel has been stolen. If cabinet approves, we will award to CCECC. We are hoping the CCECC will complete it before May 2018," he said.
Amaechi also ordered the Managing Director of Railways Properties Limited to hand over its estate at Agbor to the Ministry of Transportation for rehabilitation by Julius Berger and TNL.