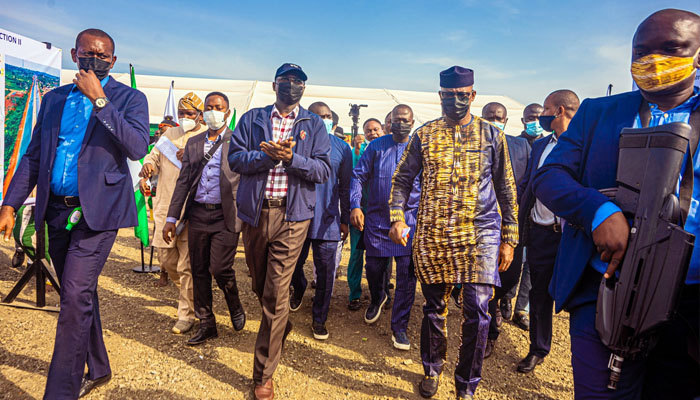 The Federal Government has ordered trucks and trailers parking on the Lagos-Ibadan Expressway to vacate with immediate effect.
The government lamented that pouring of used petroleum products was capable of destroying the roads.
The Minister of Works and Housing, Babatunde Fashola said this on Saturday at the Stakeholders Town Hall Meeting held at the Ogere end of the Lagos-Ibadan Expressway.
Fashola, who was accompanied by the Governor of Ogun State, Dapo Abiodun, said the Lagos-Ibadan Expressway constructed in 1974 and completed in 1978 was to promote north-south commercial activities.
While reacting to the activities of truck and trailer drivers on the Lagos-Ibadan Expressway, the Minister told officials of the Federal Road Safety Corps (FRSC) to enforce traffic compliance on the federal highways.
The Minister blamed the activities of trucks drivers for the delay in the completion of work on the Lagos-Ibadan Expressway.
"The point is that trucking and trailer operation is business if you want to run fleets, then you must plan parking. If the government helps you, the government does so out of compassion but you cannot run your business at the expense of the convenience and the livelihood of millions of people.
"So, money that has been hard to find and the road that has been difficult to build, you have already started pouring diesel on it, that is the beginning of the destruction of the road and my appeal to you today is to immediately leave the road from today, immediately.
"Parking on the highway is a violation of the Federal Highway Act which you (FRSC) have a duty to enforce, so, work with the stakeholders, truck owners, kabiyesis and state government, let us find an immediate way to resolve this problem so that contractors can complete their job and respond to those that say it is taking too much time.
"This is part of the delay and it is not just to build the road but also to ensure that the road is properly used and not abused.
"Pouring diesel on the road, changing oil on the road is an abuse of the road. It must stop in the interest of the truckers themselves because without roads, you have no business. Let's just understand," Fashola said.