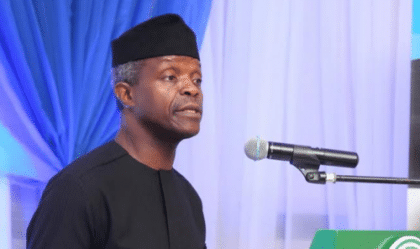 Vice President, Prof. Yemi Osinbajo, has said the Federal Government has set aside the sum of N500 billion for poverty alleviation and wealth creation.
He made the disclosure on Tuesday at the 58th Annual General Conference of the Nigerian Bar Association (NBA) in Abuja.
Osinbajo said that it was in recognition of the menace of poverty that the Federal Government rolled out the National Social Investment Programmes (NSIP) aimed at improving capacity and alleviating poverty.
He said, "We started off in 2016 looking at a budget that was crafted differently; all along if you look at the way we have approached economic policies, it has always been the case of top-down approach.
"So, we look at how to improve industry; how to improve manufacturing; we look at how to give loans to Micro Small and Medium Enterprises (MSMEs).
"The approach we adopted in 2016 was first to create to create a safety net; so we, for the first time, we put in the budget a line for what is called NSIP; that is N500 billion for NSIP and that is the largest of its kind in the history of the country.
"The N500 billion covers conditional cash transfer to the poorest; one million of the poorest; we work with the World Bank for special coverage to determine the beneficiaries."
Osinbajo said that the Federal Government targeted 5 million poor people but was hindered by scare resources.
The vice-president said that 500,000 graduates had been employed under the N-Power which was a part of NSIP for providing jobs to graduates.
He also listed TraderMoni scheme which was a micro-credit scheme aimed at the empowering 2 million petty traders.
According to Osinbajo, one way of checking poverty is to incrementally improve capacity and put money in the hands of the poorest which is what NSIP is doing.