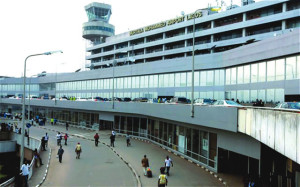 The Federal Government has stepped up screening of arriving passengers for the Ebola Virus Disease (EVD), which is currently ravaging the Democratic Republic of Congo at the nation's airports.
Passengers who arrived the Murtala Muhammed International Airport (MMIA), Lagos on Tuesday from Dubai and Nairobi Kenya via Emirates and Kenya Airways were seen undergoing the process before going through the immigration screening.
The thermal camera captures the image of a passenger as he or she enters the secure area before reaching the immigration screening point.
As the image is captured, the temperature of the subject is immediately detected by the Port Health Officer operating the large-screen Computer system.
This is in addition to the handheld infrared scanner being used to screen the passengers.
The Federal Airports Authority of Nigeria (FAAN), Ag. General Manager, Medical, Dr Ayotunde Kehinde while speaking with reporters said any passenger with abnormal temperature count upon screening would be quarantined and subjected to secondary observation.
Kehinde said already there are scanners now provided for the initial identification of any communicable disease but the screening was further strengthened with the emergency surveillance declaration on Ebola.
He said, "There are scanners provided for the issue of prevention of communicable diseases. The scanners have been mounted already and as the passengers file in, the device reads their temperature and body vitals and it is recorded.
"If the scanner picks up anything higher than normal, the passenger is kept aside for secondary analysis to determine whether it is just a common fever or something higher. This is not like the way it used to be."
Airport Manager of MMIA, Victoria Shinaba who spoke on the efforts to keep the country free of Ebola said the activities have not changed since the last outbreak of the virus.
She said, "We have a Public emergency program in place that is in conformity with ICAO practice and we follow that.
"We also have the Thermal screener since the last Ebola. A mock audit was carried out two weeks ago. A passenger came in from Ghana with high temperature and we were able to pick him up."