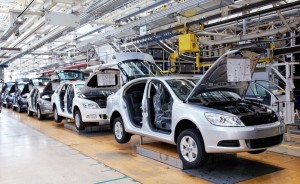 As part of measures to accelerate the development of Nigeria's automotive industry, the Federal Government plans to inject N300 billion into local vehicle assembly plants.
This is to support the assembly operations at the Completely Knocked Down (CKD) level and encourage local content development.
Director-General, National Automotive Design and Development Council, Jelani Aliyu, disclosed this at a forum in Lagos recently.
He said already contributions into a support fund initiated to facilitate the vehicle production finance scheme has risen to N11 billion.
Aliyu said presently, the auto industry activities were largely characterised by the Semi-Knocked Down operations with limited employment generated.
He said the Federal Government was worried at the slow pace of development in the auto industry sub-sector of the economy even though government had given 35 automobile firms bona-fide manufacturing status and many of them have started assembly operation.
This is coming about five years after the Federal Government commenced the implementation of the Nigerian Automotive Industry Development Plan (NAIDP), meant to encourage local production and purchase of new vehicles.
Aliyu, further said the auto support fund was an indication of the government's resolve to provide the necessary encouragement for the development of the auto sector.
He said: "The automotive industry is the cornerstone for establishing a self-sustaining economy and upgrading the standard of living both in the developing and developed economy."
According to him, the NAIDP provides for a credit purchase scheme to provide loans for civil servants, haulage and passenger commercial companies and other members of public to patronise made-in-Nigeria vehicles.
"The council has accordingly applied to the Central Bank of Nigeria (CBN), for the proposed entity operating licensee and concessions to attract additional funding from the Development Finance Institutions.
On complaints over the high costs of vehicles assembled locally, Aliyu said "All assemblers have been directed to include a low-cost vehicle in the models they roll out. This is for ease of ownership by Nigerians. So far, Hyundai, Kia, Nissan and others have all assembled brand new low-cost vehicles."
According to him, the auto industry was a major instrument for economic growth and development, which serves as an important stimulus for other types of manufacturing activities such as iron and steel, rubber, plastics, electrical equipment, road construction, transportation, urban and rural development.