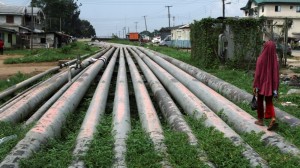 Host Communities of Nigeria Producing Oil and Gas (HOSTCOM) has disclosed that it is currently recruiting 2,000 youths to protect pipelines and oil facilities in the South-East.
The Federal Government had mandated HOSTCOM to recruit 10,000 youths within the 19 HOSTCOM states in the country for the protection of oil and gas pipelines and infrastructure.
The Executive Chairman of HOSTCOM in Enugu State, Dr Perry Iloegbunam, who made this known to newsmen, said that the recruitment, which started about six months ago, would be ending on Feb. 28.
Iloegbunam noted that the major challenge the country had faced over the years was vandalization of oil and gas pipelines and infrastructure.
"This recruitment will eradicate completely the issue of pipeline vandalism and other nefarious activities carried on oil and gas facilities and infrastructure.
"So, we are very hope that as soon as these youths are deployed; the vandalizing seen or noticed would stop.
"This is why I am passionately urging the people of Enugu State in particular and the entire South-East to key into this laudable Federal Government project.
"To get our people recruited because the condition of service in HOSTCOM is so good and beneficial to the youths; and we do not want the South-East to be left out,'' he said.
Iloegbunam revealed that there is no fixed qualification for those that want to apply but each person would be graded according to his level of education.
"So, the highly educated ones will be graded as senior officers and it will follow in that line to the level of the least educated,'' he noted.
Iloegbunam said that the Enugu aspect of HOSTCOM would accommodate as many people residing in Enugu although from other states in the South-East.
He said that HOSTCOM had started training for those recruited in some states that had finalized recruitment.
"HOSTCOM has started training in batches; our first batch was 4,000 trained at Issele Uku in Delta State; second batch 1,000 trained in Port Harcourt and third batch of 1500 trained in Benin.
"Immediately after the Enugu recruitment is over, about 2,000 will be trained in the fourth batch here in Enugu,'' he added.