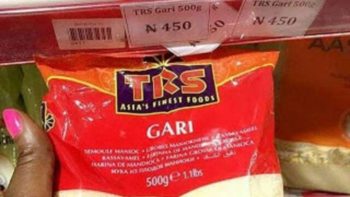 The Federal Ministry of Agriculture and Rural development says it will liaise with the National Agency for Food and Drug Administration and Control (NAFDAC) to investigate the alleged importation of garri from India.
Chief Audu Ogbeh, the Minister of Agriculture and Rural Development, who made this known on Wednesday in Abuja, said that it is "strange and ridiculous" that garri would be imported when there is enough supply of cassava and garri in the country.
He said the country produces more cassava than India, adding that Nigerians must change their attitude towards imported goods.
"Whoever buys that kind of garri should be blamed. I have heard of it. I will find out by tomorrow if NAFDAC indeed did certify any garri from India; unless it is some Indian companies packaging the garri here.
"Nigerians are too ready to buy anything imported. They will bring in apples and some of them have been preserved with ethanol, which is not healthy for our consumption.
"Whoever is importing garri from India, something must be wrong with them. Why import garri when you do not know the conditions through which the garri was produced over there.
"I have no powers to stop imports but I can recommend to the Nigeria Customs (Service) that this is unreasonable. I produce and encourage Nigerians to eat what they produce because it is safer for them," Ogbeh said.
It may be recalled that some sections of the media reported the existence of NAFDAC certified imported garri from India in some departmental stores and open markets across the country.
NAFDAC has however, denied the certification of such imported produce.
Copyright Ships & Ports Ltd. Permission to use quotations from this article is granted subject to appropriate credit given to www.shipsandports.com.ng as the source.