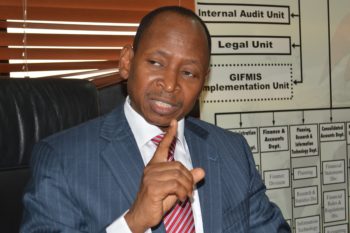 Henceforth, the federal government will no longer bear the service charge on all payments to its Ministries, Departments and Agencies (MDAs) as such costs will be borne by the payer.
The Accountant-General of the Federation (AGF), Ahmed Idris, said this in a statement issued by Johnson Oise, Director, Press, Office of the Accountant-General of the Federation (OAGF), on Sunday in Abuja.
Idris said the federal government had spent N16 billion on Treasury Single Account (TSA) transaction cost in two years.
He said that right from the inception of TSA, the federal government had been bearing the cost of transmission of funds and would not want to do so anymore.
"Within the last two years, government spent almost N16 billion in this direction which ordinarily should be borne by those making payments.
"So, it is time for Nigerians to pay for the services that they receive and government will take whatever is due to it without necessarily incurring cost.''
"In the old tariff regime, the Federal Government bore the charges on all transactions to the service providers on behalf of payers.''
Idris said a lot of sensitisation had been done to give enough room to understand the new tariff regime and for compliance, adding that the charges were minimal and negotiable.
"By negotiable, I mean by introduction of more players in the market, definitely the charges will come down from whatever they are now, but right now discussions are going on to make the charges as minimal as possible.
"We are liberalising the market and it has to be a level playing field for all operators to operate and that is what will happen.''
The AGF said that the Central Bank of Nigeria (CBN), as the regulator which stipulates the rates of the charges, would always intervene if any service provider charges beyond the approved rate.
Copyright Ships & Ports Ltd. Permission to use quotations from this article is granted subject to appropriate credit given to www.shipsandports.com.ng as the source.