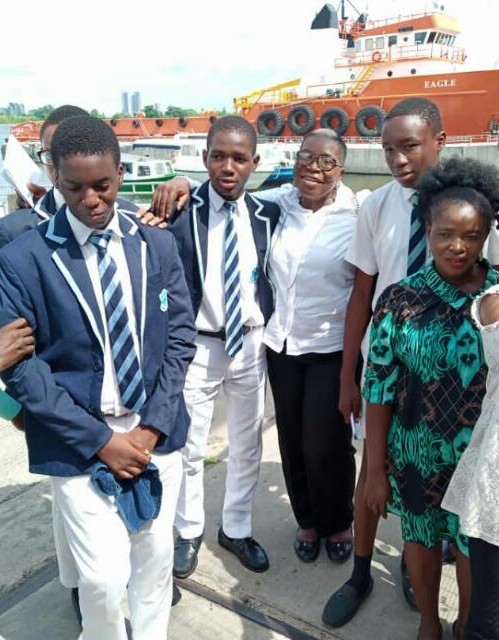 All is now set for the Nigerian Maritime Equiz; a School to Sea Campaign for secondary school students in Nigeria scheduled to take place in Lagos on September 24, 2019.
The e-quiz, which will herald the 25th September Investors in Human Capacity Development in the Education and Maritime Sectors Summit and Awards, is being organised by the Principal Partner, Vow Ventures, Mrs. Olaitan Williams, through her NGO, Ocean Ambassadors.
According to Williams, the e-quiz, which is the first of its kind in Nigeria, will enable secondary school students appreciate maritime courses and the career opportunities therein.
She said; "The maritime quiz is first of its kind in Nigeria and the simple reason behind it is that Nigeria is a maritime nation and we have so many states that are coastal communities like Akwa Ibom, Lagos, Ondo, Delta, Rivers, Cross River and Bayelsa but if you ask an average student in those areas if they know about maritime careers, they would not understand what you are even saying.
"On the 25th of September, we would have the School to Sea Summit whereby we would bring maritime and education stakeholders to come together to see how we can start the sensitization, how we can create the awareness in various schools so that maritime would be on the lips of every child. 
"We would also have awards for our past sponsors like NIMASA, Sifax, ENL Consortium, Nigeria Shippers' Council, Nigeria Export Promotion Council and a host of others since 2015 to be accompanied by a boat cruise for both investors and stakeholders to see what the shoreline of Lagos is. 
"We have to demystify the fear of no go area for water, eradicate the phobia and by next year we shall be having such conference, we shall surely have improvements.
"Lagos State, which is a coastal community with concentration of schools, doesn't know about maritime careers nor know how to chart a way forward for students when they fail JAMB examinations admission to the university isn't possible. So we decided to have many tools to creating the awareness at an early age for secondary schools students. 
"The concept is to catch them young in the area of transportation, trade and tourism mega sector of the economy so, we brought out maritime because, in maritime there are vast opportunities.
"Now the global village is talking about blue economy. When we don't even know what the maritime is all about, how can we now plug into the sustainable development goals for blue economy for the African nations not to talk of the global level? So, we have to start the sensitization now. We have been doing it for like five years and the project was endorsed by University of Lagos – the department of Geography to the post-graduate level. We had a mini-quiz for just the private school students within Lagos State and the first, second and the third prize winners were taken to Ghana to have another maritime experience which opened the children's eyes.
"We have now gone ahead to come up with the concept of the national maritime quiz, the first of its kind and we are using Lagos State as our starting point to represent South West because of the concentration of schools. We'll be having an expanded event come September 24, 2019 where both public and private schools will be meeting in UNILAG to attend the first ever maritime e-quiz in Nigeria and by December, we will be moving to Port Harcourt to represent the South East and the South/South, then next year we move to Abuja for the Northern parts of the country.
Williams appealed to the Minister of Transportation, Rotimi Amaechi to collaborate with Federal Ministry of Education to include maritime studies into the curriculum such that students will be given the opportunity to visit seaports and board vessels to create a thirst for the children to take on maritime related studies.