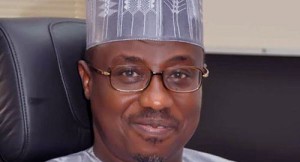 The first consignment of fertilizer from Moroccon has arrived Nigeria, even as more cargoes that will fit the various blending plants are on the way, the Group Managing Director of the Nigerian National Petroleum Corporation (NNPC), Dr. Maikanti  Baru has said.
Speaking yesterday while receiving the National Coordinator of the New Partnership for African Development (NEPAD-Nigeria), Princess Gloria Akobundu, at the NNPC Towers, Baru said the Moroccan government has agreed to offer Nigeria 90 days grace period to pay.
These developments come following the signing of a Memorandum of Understanding (MoU) on the supply of phosphate between the Nigerian and Moroccan governments which has seen about 50, 000 jobs created.
A statement from the NNPC said that the MoU between the two countries was for the supply of phosphate to rejuvenate agriculture by making fertilizer available and affordable, confirmed that the deal has started yielding positive results in the country.
Baru said: "The Moroccans have already supplied a cargo of phosphate which has been delivered to various blending plants across the country. Already, eleven blending plants have come into production because of the supply.
According to the GMD, aside being a huge boost to the Nigerian agricultural sector and the economy, the partnership is expected to boost bilateral relationship between the two countries, in line with NEPAD's objective of championing regional economic partnerships and integration.
Earlier in her remarks, the National Coordinator, NEPAD-Nigeria, Princess Gloria Akobundu stated that they were in the NNPC to seek for areas of collaboration with the Corporation especially in their quest to promote regional integration on the continent.
"As NEPAD, we are mandated to identify and work with strategic partners to facilitate, monitor and promote the implementation of developmental projects across the continent," she stated.