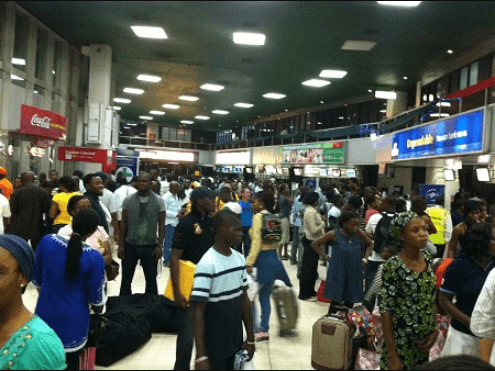 Hundreds of passengers are currently stranded across airports in the country following the inclement weather condition that compelled most domestic flight operators to ground their services.
From Lagos to Abuja, Port Harcourt, Benin, Kaduna and others, the situation was the same as airlines cancelled flights.
At the Lagos airport, it was gathered that the airlines experienced delays and eventual cancellations, while those in Abuja could not depart the city, as airlines could not deploy their aircraft to the Nnamdi Azikiwe International Airport because of the same poor weather condition.
One of the affected passengers at Abuja airport, Austin Ogunwusi, said that he travelled to Abuja on Sunday with plans to return to Lagos on Wednesday with Azman Air but could not do so as the counter personnel of the airline told them that the weather condition in Lagos was not good for flying.
According to Ogunwusi, apart from the Azman Air passengers, clients of Aero Contractors, Dana Air and Air Peace were also affected by the situation.
He however, said that unlike in the past when passengers would descend on airline staff, the reverse was the case as they were informed that it was due to safety.
General Manager, Public Affairs, Nigerian Airspace Management Agency (NAMA), Khalid Emele, said that the inability of some international flights to land at Lagos airport was largely due to issues of inclement weather.
He stated that Lagos has two runways, 18 Right and 18 Left, stressing that the Doppler Very High Omni-Directional Radio Range and the Distance Measuring Equipment at the airport have successfully been calibrated and passed 100 per cent.
"The localiser (a component of the instrument landing system) responsible for horizontal guidance at runway 18 Left has also passed 100 per cent calibration while the glide slope (which is another component of the instrument landing system that provides vertical guidance) is undergoing routine maintenance and by tomorrow the maintenance will be concluded and the equipment shall be fully on air.
"On Runway 18 Right, there is Category 3 ILS which is still undergoing installation. Presently, Selex Systems, the contractors are working on the realignment of its parameters, preparatory to the calibration and commissioning of the equipment in the shortest possible time. 
"Meanwhile the agency hereby wishes to reassure airspace users and the general public that the Nigerian Airspace remains safe for seamless and economic air travel and regret any inconveniences caused," he said. 
Copyright Ships & Ports Ltd. Permission to use quotations from this article is granted subject to appropriate credit given to www.shipsandports.com.ng as the source.