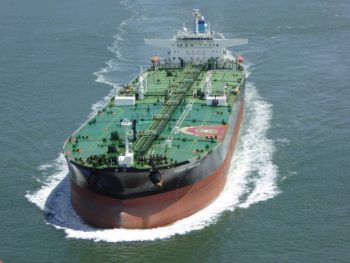 Oil tankers carrying roughly 2.5 million barrels of U.S. crude are currently en route to Asia, trade sources said on Wednesday, as U.S. producers take advantage of favorable prices to ship to Asia while OPEC ponders further supply cuts next week.
At least three vessels capable of moving 1 million barrels of crude each are sending domestic oil to Asian refiners, as well as some Mexican crude, several sources said.
OPEC members meet next week to discuss extending a global supply cut, but the possibility of U.S. supply eating into their market share will be a challenge. While member countries have largely restrained their supply, they have remained intensely focused on keeping market share with Asian refiners. But relatively cheap U.S. crude has buoyed exports to Asia.
Traders expect that May U.S. crude exports could reach around 1 million barrels per day, with a sizable portion of that going to Asia. Last week, U.S. crude exports touched 1.09 million bpd, the third highest on record, according to U.S. government data. If numbers remain elevated, they could surpass the record 1.2 million bpd seen in February.
"We expect that momentum to continue when (Dakota Access Pipeline) opens and as more Permian production hits Corpus Christi docks," said Sandy Fielden, director of oil and products research at Morningstar, of the exports.
Increasing traffic to Asia is possible because of a widening premium for Brent over U.S. crude, which touched a six-week high on Wednesday.
"Early May spot prices showed both Brent and Dubai trading at around a $3 per barrel premium to Brent and WTI Cushing, which is an open window," said Fielden.
Meanwhile, prompt Brent crude's premium to Dubai, also called the exchange of futures for swap narrowed to below $1 a barrel last month, hitting 46 cents a barrel on April 27, its tightest since 2010.
That spread has been tightening since OPEC agreed to production cuts in November, making U.S. cargoes more competitive. An extension to OPEC cuts may further benefit U.S. producers and exporters.
The Sydney Spirit, a Bahamas-flagged vessel, is delivering Alaskan North Slope (ANS) crude to Asia, according to two sources and Reuters vessel tracking data. Half of the crude onboard the vessel is unsold, one of the sources said.
Vessel tracking data available via Eikon system lists the ship as "for orders," which indicates there may not be a buyer for at least some of the crude. The ship is currently on its way to Asia.
Meanwhile, Japanese refiner Cosmo Energy loaded the Almi Star, a Aframax vessel carrying around 600,000 barrels of crude, with offshore Southern Green Canyon crude and Domestic Sweet Blend (DSW) outside of Houston, before picking up an additional 300,000 barrels of Maya crude at Dos Bocas, Mexico, two sources familiar with the matter said.
That ship will move through the Panama Canal, and then transfer crude to a larger Suezmax vessel loaded with 400,000 barrels of Mexican Maya crude for a voyage to Asia, the sources said.
The Montesperanza, another Suezmax, is headed to Singapore after loading at the Galveston Offshore Lightering Area. The ship is controlled by French energy firm Total SA, and the crude on it is expected to go to Japan, two sources said.  
Copyright Ships & Ports Ltd. Permission to use quotations from this article is granted subject to appropriate credit given to www.shipsandports.com.ng as the source.