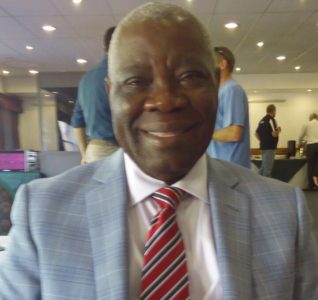 A former Minister of Transport under the regime of Gen Abdulsallami Abubakar, Admiral Festus Porbeni (rtd) is bringing world's biggest boat and canoe builder, Nelo to Nigeria for collaboration on boat building in the country.
In an exclusive interview with SHIPS & PORTS DAILY at his Lekki marine recreation jetty yesterday, Porbeni said the new boat building facility would cater to Nigerians who would be taking part in the rowing and canoeing aspects of the national sports festival.
Nelo is the largest canoe manufacturer in the world, designing and creating boats for racing, touring, fitness, sea racing and slalom.
The former Minister said the collaboration would also build boats for West African countries.
Admiral Porbeni is the current President of Nigerian Rowing, Sailing and Canoeing Federation (NRSCF) and Vice President of the Confederation of African Canoeing (CAC).
"First, we are manufacturing some boats here in Nigeria with the collaboration of Nelo. With that collaboration we are going to spread to the West African countries; they are going to be buying boats from us and that is a big economic venture and of course, now that canoeing is in the national sports festival, that means we will be having them to come and buy boats from us; we will create jobs for the boys. Nelo will come here to teach us how to make the boats. Nelo will first make 60 units and after the 60 we will continue making the boats ourselves," he said.
Since he left office in 1999, the former minister has been working to develop marine sporting in Nigeria and across Africa, investing massively in boats for sporting and recreation and maintaining a marine recreation centre called Bics Garden in Lagos' highbrow Lekki.
He noted the lack of exposure to the marine environment by many people due to the obscurity of maritime business.
"Canoeing, like anything maritime is a little obscure. I am president of rowing, sailing and canoeing; so they are three federations that I am in charge of. And of course, canoeing and rowing federation has over 21 medals in Olympics because they make up big Olympic events and here we were just toying with it.
"But I am gradually moving the sports on now; since I came on board, we have been moving forward. I presented two Olympians—Sherry Koko and Jonathan Akinyemi in the last Olympic in Brazil. As you can see in my environment here, there is a lot of rowing and sailing going on and next week we are having training of Nigerian rowers by the Nigeria Olympics Committee (NOC). We already have the boats which I bought from South Africa.
"Luckily, we have succeeded in establishing a national sport festival. With that more people will be aware of it and will become part of it. The last time we trained in Calabar waters and Liyel Imoke, the then governor of the state was very cooperative. So, Calabar is in the forefront of rowing today. You can imagine their rivers all over and the advantage they present," he said.