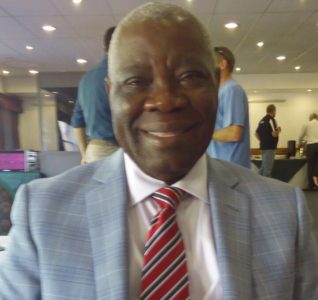 A former minister of transportation, Admiral Festus Porbeni has urged the Federal Government to stop freighting of the nation's oil and gas cargoes on free on board (FOB), especially as plans are on ground to float a national shipping line by the private sector.
In an exclusive interview with SHIPS & PORTS at his Lekki waterfront, Porbeni who was minister of transportation under the Abdulsalami Abubakar regime recalled that lack of cargoes to lift was one of the major reasons for the collapse of the Nigeria National Shipping Line (NNSL), stressed that government must turn to cost, insurance and freight (CIF), while making the wet cargos available for indigenous ship owners.
In the meantime, Admiral Porbeni who is now a maritime investor suggested that indigenous shipping lines could lease or charter vessels from their Greek counterparts to trade on cabotage waters, instead of having the Greek shipowners do the job with foreign crew.
He also called on the Federal Government to deepen investment in the Maritime Academy of Nigeria (MAN) Oron to enable it improve on the maritime human capacity development mandate.
He said, "During my time, I tried to make the indigenous ships get cargoes, because I found out that our wet cargoes are carried by foreign vessels on FOB and I said look, why can't we give it our indigenous shipping lines? The argument then was that NNPC said the indigenous shipping lines don't have vessels. I said give the cargoes to the indigenous companies. The Greeks were all over. I suggested that if our people have the contract to lift our wet cargo, they can lease vessels from the Greeks. It was difficult.
"Recently I heard somebody said yes, we must now give the cargoes to the indigenous shipping lines and that is the way it should be. If you buy a car in America or London, Nigerian vessels don't go there to carry the car. Persons in America or in London carry the cars and bring them here. NNPC was giving us headache that time, but I thank God they are now seeing what we saw then.
"We are losing money on FOB. We should be the ones to carry our wet cargo, that is oil which is the major cargo we have. Nigerians can work with foreign partners. If a Greek man brings two vessels to Nigerians for lease or charter, then Nigerians can now have vessels that can carry the wet cargo and he will employ more Nigerians. We tried to make sure that the NNSL didn't go down by advocating that the NNPC give them cargo to lift."
Lamenting over the security issues in Nigerian waters and the Gulf of Guinea, the former minister who was a commandant on Nigerian Navy Ship, NNS ARADU while serving in the Navy, advised that government should employ private security escorts for vessels once approaching the anchorage.
He said, "You know, we pay more on insurance for cargoes coming to Nigerian waters and the Gulf of Guinea, right from Dakar. You have a ship coming on the anchorage criminally-minded people go there to harass them, steal from the vessel, so it makes it very difficult for ship owners in our area. So when these criminals know that there are armed men on board, they would have restrains. So many things are wrong with us; so many youths without jobs and going into piracy."