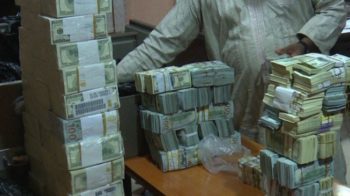 A prosecution witness in the ongoing trial of Andrew Yakubu on Tuesday told the Federal High Court, Abuja, how the $9.8m and £74,000 was found in the defendant's house in Kaduna.
Yakubu, who was the former Group Managing Director of the Nigerian National Petroleum Corporation, was arraigned by the Economic and Financial Crimes Commission (EFCC) on six counts of money laundering and false asset declaration.
Led in evidence by prosecuting counsel, Ben Ikani, the witness, Tasiu Abubakar, who is a superintendent of police attached to the EFCC, said on February 2, the EFCC Zonal Head of Operation in Kano received information about the money kept in the defendant's house in Sabon Tasha, Kaduna State.
The witness said when it received the information, the zonal head directed the Intelligent and Special Operation section to carry out an investigation into the said house.
He said on their arrival at the house, a search warrant was presented it to the caretaker of the house,  Yakubu Bitrus, a brother to the defendant.
"We then demanded the key to the house from his brother who told us that the key was not with him but he then called an iron bender who opened the door.
"When we entered the room, we discovered another unlocked door and inside it we saw a grey colour Gubabi four-panel safe and a white Excel CPU component which Bitrus said belonged to the defendant.
"After discovering the safe, the team along with the defendant's brother, proceeded to the EFCC office in Kano where key experts were invited to unlock the safe,'' he said.
The witness added that the zonal head also invited the services of a Bureau de Change operator who came with two machines and counted the money which amounted to $9,772,800 and £74,000.
Abubakar said the defendant was out of the country for medical treatment when the money was recovered but on February 8, he came with his counsel and his statement was recorded.
He added that an order of forfeiture of the money was made and a court order for the defendant to be detained was issued.
He also said the money recovered from the defendant's house was kept at the Central Bank.
Justice Ahmed Mohammed admitted in evidence the four-panel safe, the search warrant and the defendant's statement after the prosecution applied to tender them.
When cross-examined by the defence counsel, Ahmed Raji (SAN), the witness said all the money recovered during investigation was registered as exhibit pending the determination of the matter.
The judge adjourned until May 24 for the continuation of the trial.