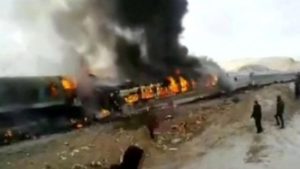 Four people died and dozens were injured after a passenger train derailed and crashed into a truck before bursting into flames in South Africa's Free State province, emergency services said on Thursday.
"Four people have been declared dead… with approximately 40 injured," said Netcare's Spokesman, Tebogo Magoro, a spokesman for emergency services group Netcare911.
Paramedic service ER24 said as many as 100 people had been injured.
Agency Report