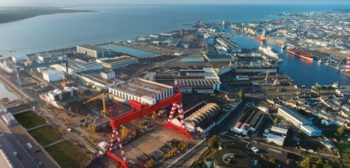 France will nationalize the STX France shipyard to prevent an Italian firm taking majority control, the Economy Minister said on Thursday, triggering an angry response from Rome to President Emmanuel Macron's first big industrial policy decision.
As France's most avowedly pro-business leader in decades, few would have predicted the former investment banker's first big move in the corporate sector would be a nationalization, even if the government says it will only be temporary.
However, his action, which added further strain to France's relationship with Italy, fits with the interventionist style of other postwar French leaders. It also crosses into the defense sector, where many national governments prefer to wield influence over ownership.
The Italian state-owned shipbuilder Fincantieri had reached an agreement in May to pay 79.5 million euros ($93.20 million) for two-thirds of STX France, which is being sold because of the collapse of its South Korean parent, STX.
This week it rejected a French government proposal to settle for 50-50 ownership instead.
That prompted the French state, which had a minority stake, to exercise pre-emption rights to buy out other shareholders before those rights expire at the end of the month, in effect giving Paris more time to come up with another solution.
"This decision is in line with the economic strategy that we want to build with the president of the Republic and the prime minister," Economy Minister Bruno Le Maire told a news conference.
"We want to free up France's exceptional productive capacities and protect our strategic interests," he said, adding that the 50-50 ownership offer was still on the table and that he would visit Rome on Tuesday.
While Italy's government warmly welcomed the election of Macron in May, viewing the pro-European centrist as someone who could help Rome on an array of issues, the STX move added to other decisions that have upset it.
Macron's talks this week with Libyan leaders irritated Rome, which had previously taken the lead in efforts to bring peace to its former North African colony, and was already disappointed by the new president's migration policies.
The STX nationalization also goes to the heart of Italy's long-held view that French companies' acquisitions on its territory are a one-way street.
Italian Economy Minister Pier Carlo Padoan and Industry Minister Carlo Calenda called France's decision to nationalize the shipyard "grave and incomprehensible."
"Nationalism and protectionism are not an acceptable basis for establishing relations between two great European countries," they said in a joint statement.
The prospect of a Fincantieri takeover had raised fears in France about jobs at the Saint-Nazaire site, and the government was also concerned about the strategic importance of the yard, the only one in the country big enough to build aircraft carriers and other large warships.
"The Saint-Nazaire shipyards are not destined to remain under state control," Le Maire said. "The pre-emption decision is temporary and should give us the time to negotiate in the best conditions."
The decision, which was welcomed by French politicians of all political stripes, flies in the face of any expectations that Macron, who in his former post as economy minister sought to liberalize swathes of the economy, would break with the French state's tradition of intervention in business.
Even while serving as Economy Minister, Macron forced through a shareholder vote that increased the government's power over carmaker Renault. Since becoming President in May, he has also forced carmakers to help fund a failing parts manufacturer. 
Copyright Ships & Ports Ltd. Permission to use quotations from this article is granted subject to appropriate credit given to www.shipsandports.com.ng as the source.