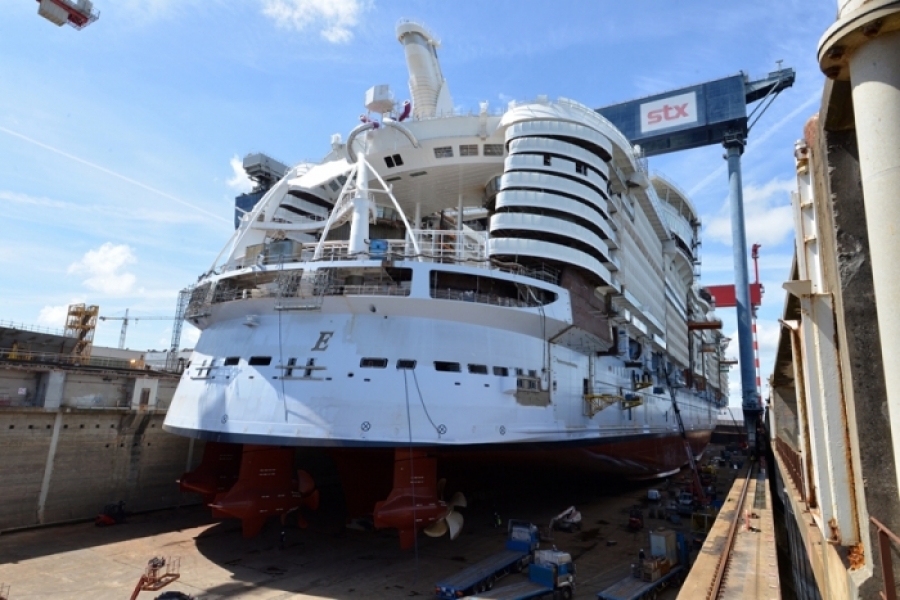 France hopes Italian shipbuilder Fincantieri's takeover of STX France will be wrapped up soon, French Finance Minister Bruno Le Maire said on Wednesday, but sounded a more cautious note on any defence naval merger.
Speaking in Rome after meeting two Italian ministers, Le Maire said France had not changed its position on the STX deal, quelling concerns the takeover could be hampered by tenser relations with Italy's new anti-establishment government.
"Italy and France share the same desire to wrap up the STX-Fincantieri merger, which will produce one of the biggest civilian shipbuilders in the world," Le Maire told reporters after talks with his Italian counterpart Giovanni Tria and Deputy Prime Minister Luigi Di Maio.
Paris and Rome are also exploring the creation of a Franco-Italian naval group involving French military shipyards firm Naval Group and Fincantieri, in a bid to ward off the threat from industrial powers such as China and the United States.
The two countries had previously indicated they wanted to agree to the outlines of a deal by June, but Le Maire said it was up to the two firms to pursue talks "at their own pace" and warned against any talk of a possible merger.
"It would not be wise" to discuss a defence merger now, Le Maire said, stressing that a full fusion was not part of an original 2017 agreement to look into possible tie-ups.
A French official, speaking off the record, said Naval Group could not be privatised, adding that parts of its activities, such as building nuclear submarines, were national strategic assets that could not be absorbed into any international group.
Relations between France and the new Italian government got off to a rocky start in June when President Emmanuel Macron accused Rome of acting with "cynicism and irresponsibility" by closing its ports to a ship carrying rescued migrants.
An initial meeting between Le Maire and Tria was abruptly cancelled as a result of the row, but the French minister insisted that the two countries saw eye to eye on many issues.
"Regarding the euro zone, honestly, Italy is the country with which we share the closest position," Le Maire said, adding that both nations were in favour of creating a European budget and setting up a backstop fund in case of financial crises.
He also denied there were any tensions over Italy's call for a thorough review of an ambitious rail project meant to connect the French city of Lyon with the Italy's Turin.
The Franco-Italian project received a green light last year and hundreds of millions of euros have already been spent on preparatory work, but Di Maio's anti-establishment 5-Star Movement has said the link represents a massive waste of money.
"Di Maio's position does not shock me. These are legitimate questions and we have to discuss this together," he said.
"You don't have France on the one side which is totally in favour of the Turin tunnel, and Italy on the other, which is against. It isn't that at all. It is much more complicated than that," Le Maire added. 
Copyright Ships & Ports Ltd. Permission to use quotations from this article is granted subject to appropriate credit given to www.shipsandports.com.ng as the source.