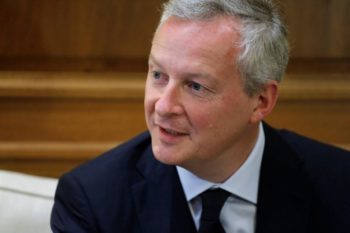 France and Italy want to find a solution for Italian shipbuilder Fincantieri's blocked takeover bid for STX France shipyards by Sept. 27, French Finance Minister, Bruno Le Maire said on Tuesday.
French President Emmanuel Macron angered Rome by ordering STX's "temporary" nationalisation last month, cancelling a deal in which state-owned Fincantieri and another Italian investor had agreed to buy a total of 54.6 percent of STX France, sold because of the collapse of its South Korean parent.
Le Maire, who held talks in Rome with his Italian counterpart Pier Carlo Padoan and Italian Industry Minister Carlo Calenda, also told reporters the two countries plan to boost naval cooperation.
"Our strategic objective is for France and Italy to build the Airbus of the naval world, in other words the world's number one naval industry champion. It is normal that this takes a little while," he said.
The Italian ministers said Italy could not accept a 50-50 split, adding differences with France remained.
"Our positions on STX are certainly far apart," Calenda said.
In a joint statement, the two countries said France would not open STX France to other bids until Sept 27. Padoan said there was time before then to find a solution.
Le Maire earlier told Italian daily il Corriere della Sera that France wanted a private investor for STX and that Fincantieri was the best option, but the government would be forced to consider other alternatives should negotiations with Fincantieri fail.
"The (STX) Saint Nazaire shipyards must not be directed by the French State. We want a private shareholder and Fincantieri today is the best industrial group to join this big European and Franco-Italian project," Le Maire was quoted as saying.
He added that France had exercised its pre-emption right to repurchase the controlling stake in STX simply to have more time and relaunch negotiations with Italy.
He also said no decision on STX had been taken against Italy and that the 50-50 joint ownership option, refused by Italy, would have given STX's chairman of the board, to be appointed by Fincantieri, a "preponderant voice".
Le Maire said a previous deal did not give sufficient guarantees with regards to employment levels and use of technologies.
The prospect of a Fincantieri takeover had raised fears in France about jobs at the Saint-Nazaire site, and the government was also concerned about the strategic importance of the yard, the only one in the country big enough to build aircraft carriers and other large warships.
"France is open to Italian investments but STX is unique and strategic," he said.   
Copyright Ships & Ports Ltd. Permission to use quotations from this article is granted subject to appropriate credit given to www.shipsandports.com.ng as the source.