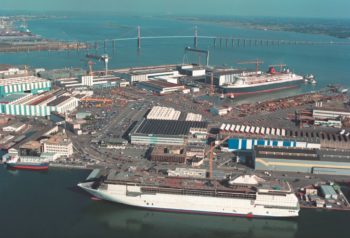 France will offer to expand shipbuilding cooperation with Italy into naval vessels, Finance Minister Bruno Le Maire said, after Paris thwarted a tie-up it is now seeking to renegotiate between the STX France shipyard and Italian rival Fincantieri.
Le Maire, who will reopen negotiations in Rome on Aug. 1, described the offer as "a gesture of openness by the president", in an interview published on Sunday by Le Journal du Dimanche.
President Emmanuel Macron has angered Rome by ordering STX's "temporary" nationalisation, cancelling a deal in which Fincantieri and another Italian investor had agreed to buy stakes totalling 54.6 percent of the business.
Paris exercised a pre-emption right to repurchase the controlling stake in the shipyard acquired by Fincantieri from bankrupt South Korean parent STX, after failing to renegotiate the shareholder pact agreed under France's last government.
Macron now proposes to keep the shipyard under 50-50 joint ownership. His intervention has proved popular – commanding 70 percent voter approval, according to an Ifop poll in the same newspaper – while inviting comparisons with nationalisation sprees under earlier presidents including François Mitterand.
"This isn't 1981 and I'm not following in anybody's footsteps," Le Maire told the paper. "It's temporary."
Le Maire gave no details of the military offer but said it would build on planned collaboration in civilian vessels, creating a "European naval shipbuilder champion".
He added, "If there's no deal (with Italy), we will stick with the current situation and look for other potential buyers. But that's not what we want." 
Copyright Ships & Ports Ltd. Permission to use quotations from this article is granted subject to appropriate credit given to www.shipsandports.com.ng as the source.