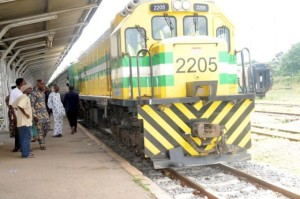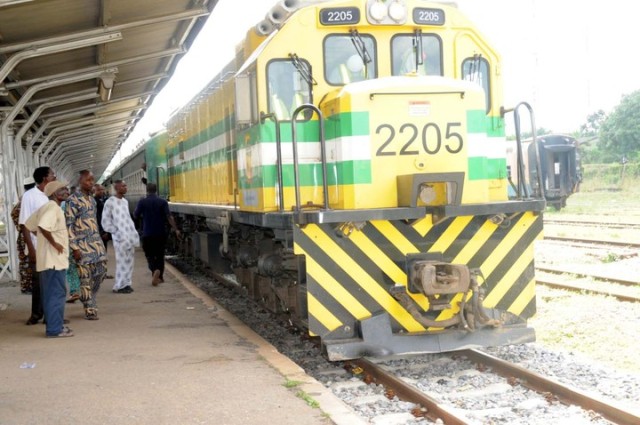 The Operations Manager, Idu Train Station, Victor Adamusays, said the free train service for Abuja-bound air travellers from the Kaduna international airport has increased to 260 passengers per day.
Adamu disclosed this on Tuesday in Idu, Abuja, while speaking with newsmen on transit to Kaduna with the Minister of Information and Culture, Alhaji Lai Mohammed.
The minister is leading a team of journalists on first-hand experience and facility inspection tour of Kaduna International Airport.
The station manager explained that the shuttle, which commenced on March 8, had gradually picked up with daily movement of 180 passengers from Abuja to Kaduna and between 75 to 80 passengers from Kaduna to Abuja.
The manager said that the service was free, adding that all passengers were required to present their flight tickets or boarding pass for clearance before boarding the train.
He said that the Federal Government had dedicated two of the four coaches for air passengers, who wished to fly from Kaduna airport.
According to him, two economy class coaches have been reserved for air passengers connecting their flights from Kaduna and those returning to Abuja from Kaduna.
"We started gradually, but since last week it has picked up and now we convey up to 180 passengers connecting their flights down to Kaduna and from Kaduna to Abuja, we record 75 and 80 passengers sometimes.
"Passengers who wish to travel on business class have to pay additional N1,500 for their tickets because the coach provided for them for free is the economy class.
"Any passenger who doesn't want to be in the free economy class reserved for them is free to go into the executive class upon payment of N1,500, which is the fare.
"Payment for the transportation of air passengers is being recorded and sorted out by the management of Nigerian Railway Corporation," Adamu said.
A passenger, Aderemi Adegboyega, commended the government for the arrangement it had put in place to cushion the effect of the closure of Abuja airport on passengers.
Adegboyega said he preferred to travel by rail to Kaduna because of safety and reliability, adding that the train terminal was as clean as that of the airport.
He, however, urged government to ensure the development and sustainability of rail transportation in the country.
"Ordinarily, I would have taken a taxi to Kaduna but on a second thought, I decided to go on the train because it is better.
"I Just walked in here, I didn't have to buy any ticket because my flight ticket was enough; it is a secure terminal too and you don't drive very close to the main terminal. I believe that it is safe.
"The lounge is as clean as the airport lounge; I don't think there is any problem about this arrangement. I just hope that they are able to sustain it," he said.
Another Passenger, Tunde Fanwo, said he travelled by rail because of the proximity of the rail station to where he lived.
According to him, it is cheaper, safer and more reliable to travel by rail to Kaduna.
He said that the journey, which takes just about one hour and thirty minutes, was not too long.
Following the closure of Abuja airport on March 8, government had provided free buses and train rides to convey air passengers to and from Kaduna Airport.
The government had hired the services of 40 Chisco Transport buses and dedicated two coaches on the train for the Abuja-Kaduna shuttle.
Repair work on the Abuja airport runway has since commenced and in progress.