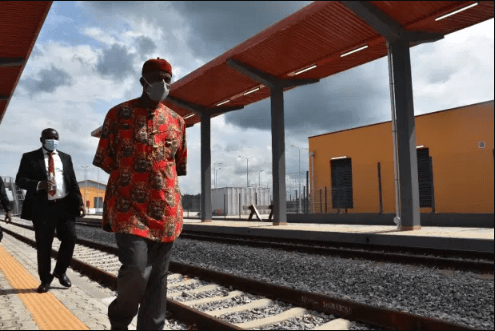 The Nigerian Railway Corporation (NRC) has commenced freight services on the Itapke-Warri rail line.
The official flag-off saw the commencement of 96 line pipe haulage between Ijevwu Rail Station in Warri to Itakpe Station in Kogi State or the national central line.
On 29th September 2020, President Muhammadu Buhari commissioned the 326 kilometre-Itakpe-Ajaokuta-Warri rail line for commercial operation 30 years after the project was conceived.
Although passenger services commenced immediately, the freight service didn't commence at the time.
The line pipes belong to the Ajaokuta-Kaduna-Kano (AKK) gas project being promoted by the Nigerian Gas Company Ltd.
Speaking at the event, the Minister of Transportation, Rotimi Amaechi, said the "laudable achievement will definitely boost the Gross Domestic Product (GDP) and equally enhance the socio-economic development of the communities living along the route.
"The project is for the benefit of these communities and Nigeria generally, irrespective of political affiliation."
On the Itapke-Warri rail operations, he said, "exports available suggests that patronage on this route has increased by over 200% in the last few months and is becoming a preferred means of transportation for communities along this route in Delta, Edo and Kogi States" he said.
The Governor of Delta State, Ifeanyi Okowo, promised that the rail infrastructure in the state will be protected.
He said this is a new beginning for rail transportation in Nigeria.
He assured that the host communities in Delta State have accepted the facilities and will guard it jealously.
"Everything that is here will be highly protected by the community and the state government," he said.
Senator Istifanus Gyang, who represented the National Assembly, commended the project and pledged the support of federal lawmakers in fund allocation to rail infrastructure across the country.
He also said the legislators will strengthen oversight function on railway activities across the country.