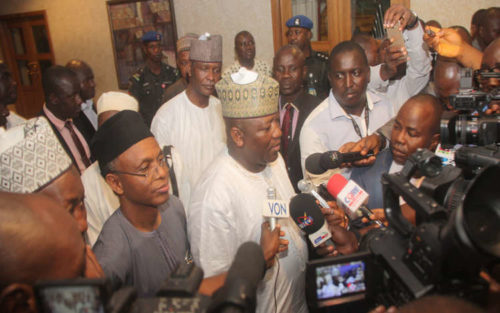 Nigerian governors under the aegis of the Nigeria Governors Forum (NGF) on Wednesday rejected the proposed N30,000 minimum wage, arguing that most states in the federation cannot afford it. 
The governors said accepting the N30,000 as the new national minimum wage would lead to the collapse and bankruptcy of many states. 
The governors made this position known after an emergency meeting they held in Abuja on Wednesday night.
The governors resolved to raise a fresh committee to meet with President Muhammadu Buhari over the issue.
A national strike scheduled for Nov. 6 was shelved by labour unions in the country after a tripartite committee headed by a former Federal Permanent Secretary, Amma Pepple, recommended the adoption of N30,000 demanded by workers as the new national minimum wage. 
President Muhammadu Buhari, while receiving the report of the committee last Tuesday, said he was committed to having a new national minimum wage within the shortest time.
He said the necessary machinery would be put in place to transmit an executive bill to the National Assembly on the tripartite committee's recommendation. 
"We will continue to engage you all in closing any open areas presented in this report. I therefore would like to ask for your patience and understanding in the coming weeks," Buhari had told the committee members. 
With the rejection of the committee's recommendation by the 36 state governors, the labour leaders have vowed to resume their agitation by mobilizing their members nationwide for a total strike by December.