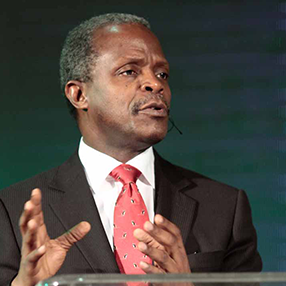 Vice-President Yemi Osinbajo says the fuel subsidy removal has removed a burden of not less than N15.4bn monthly from the Federal Government.
Osinbajo said this in Abuja on Thursday at the 2016 presentation of Scorecard of the Ministry of a Petroleum Resources and Agreements Signing ceremony for Joint Venture Cash Calls exit.
Represented by the Attorney General of the Federation and Minister of Justice, Abubakar Malami, Osinbajo said that $15bn would be injected into the sector.
He said, "I am pleased to be the special guest of honour at the agreements signing ceremony for Joint Venture Cash Call exit and the announcement of $15bn investments to be done in the sector.
"The oil and gas sector remains very critical to the stability and growth of our economy as it accounts for about 90 per cent of earnings.
"Amongst others, the downstream sector has been deregulated with the elimination of petroleum subsidy.
"This policy has removed from government, a burden of not less than N15.4bn monthly."
The vice-president said that government had taken steps to raise the domestic refining capacity for petroleum products by repairing the existing refineries.
He said, "We have also licensed modular refineries and support the development of private refineries one of which is a 650,000 barrel per day capacity."
According to him, one of the refineries is nearing completion, adding that when completed, it will restore "our pipeline to facilitate crude and products transportation."
He said that the Federal Executive Council had approved new measures aimed at eliminating the burden of JVC and easing future payments in the upstream sector.
Osinbajo commended the World Bank on the global initiative to secure the environment by ending and commercialising gas flares.
He said, "It will boost the discharge of international obligations by Nigeria on climate change and contribute to our national power generation capacity".
He urged other ministries to come up with score cards of their performances in the last year.
Also speaking, the Minister of State for Petroleum, Dr Ibe Kachikwu, said that when he took over the leadership of the ministry, oil sector was losing N1.2tn every year and fuel scarcity was common.
He said, "Today, we have a situation where refined petroleum consumption has gone down from an all-time high of 40 million litres a day to about 28 million litres a day.
"On cash call, the issue was how long the upstream was going to continue to bleed as investments were drying up and activities grinding to a halt.
"For the first time in 2017, you are going to see the Ministry driving an effort with the Department of Petroleum Resources to find leakage areas, essential to cover the gap in the 2017 budget.
"In the Niger Delta, we have brought the all-time low production of 1.3 million barrels per day (mbpd) to 1.8mbpd but for some minor incidents it would be closer to 2.1mbpd or 2.2mbpd.
"We set a zero militancy target in 2017 and we want anything that needs to be done should be done," he said.
On Organisation of Petroleum Exporting Countries, he said that he was thrust into the chairmanship of the organisation immediately he was appointed.
He added that he said he had to convince four countries to serve as engine rooms of finding solutions and not bringing the national problems to OPEC.
In her address of welcome, Dr Jamila Shua'ra, said "the year started with refineries producing below capacity, high demand for petroleum products and insufficient supplies at depots, forex shortages.
He said, "However, President Muhammadu Buhari believed in our team and our collective ability to find solutions.
"Although, it is not Uhuru yet, there are many more rivers to cross. As we speak, aviation fuel remains a challenge.
"We are yet to pick maximum capacity in our refineries and there is need for more investors to fund massive infrastructural development in the sector."
The awards were presented to an outstanding staff each from subsidiaries of the Ministry.
Copyright Ships & Ports Ltd. Permission to use quotations from this article is granted subject to appropriate credit given to www.shipsandports.com.ng as the source.