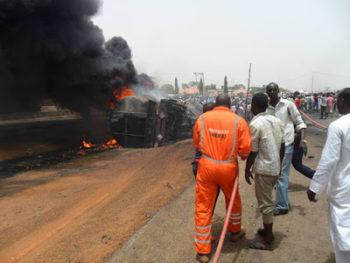 Thousands of passengers either coming from or going to Abuja are stranded as a result of an explosion and fire at Tafa along the Kaduna-Abuja highway.
It was gathered that the explosion occurred after a tanker loaded with petroleum products avoided collision on the highway with a commercial Golf car, skidded off the highway and exploded.
The number of casualties from the accident is not yet certain, but many are feared dead from inhaling the smoke, burnt by the fire, or as a result of the explosion.
The spokesperson of the National Emergency Management Agency (NEMA), Yushau Shuaib, said a place of worship was burnt, but insisted that no life was lost.
It was gathered that several houses were burnt in the area, but NEMA explained that quick intervention that saw to evacuation of the residents ensured many lives were saved.
The busy Kaduna-Abuja highway links the Federal Capital Territory with the North West and North East, with thousands of vehicles plying it everyday.
It also links the North with the South through Lokoja, the Kogi State capital.
Bad portions of the road cannot be ruled out as a cause of the accident on this very important Federal Road, as the road which was rehabilitated earlier this year has gone bad few months after.