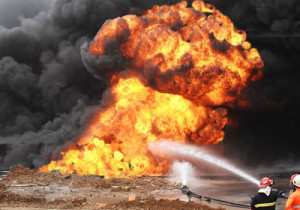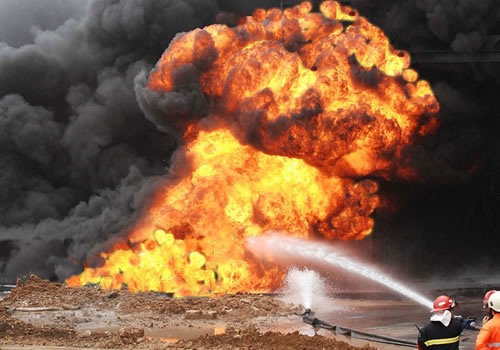 At least four people were killed following a gas pipeline explosion in Nigeria's oil-producing south, a local official said Saturday.
"We have lost three people" to the explosion in Rivers state on Wednesday afternoon said Chris Idika, a clergy and community leader.
He added that another body was discovered Thursday night "in the bush".
However, the co-owners of the pipeline, Nigeria Liquefied Natural Gas Limited (NLNG) and Nigerian Agip Oil Company, denied the blast caused any deaths.
The cause of the explosion remains under investigation, though local Evekwu community leader Ndudirim Amadi told AFP it may have been due to "high pressure on the pipeline".
The communities are accusing the pipeline owners of neglect, saying they hadn't visited the blast site to gauge the level of damage to the people and communities.
"The incident has caused a lot of damage to the people of the area as farmlands and crops have been destroyed as a result of the explosion," local chief Ndudirim Amadi.
NLNG external affairs manager Kudo Eresia-Ete responded in a statement, saying that "no injuries or fatalities have been reported".
"Emergency response procedures were immediately activated and the relevant authorities have been notified," he said.
He added that communities closest to the area of the explosion were "advised not to approach the site in the interest is safety".
Attacks on pipelines by militant groups have slashed Nigeria's oil production helping to tip the country into recession as it struggles to adapt to the low price of crude globally.
Militant attacks reduced Nigeria's output in  2016 by one million barrels per day, resulting in a revenue loss of up to $100bn (95 billion euros), according to the government.
At the same time, attacks on oil and gas facilities cut production throughout last year. The naira currency has shed value and foreign currency has been in short supply, hitting investors.
The rise in the cost of living in Nigeria has led to increasing anger. Earlier this month, hundreds took to the street to protest against the government's handling of the economic crisis.
Copyright Ships & Ports Ltd. Permission to use quotations from this article is granted subject to appropriate credit given to www.shipsandports.com.ng as the source.