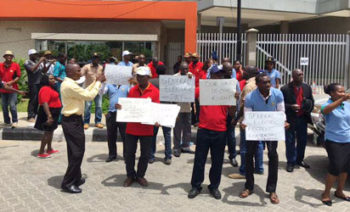 Some days after it was picketed, the General Electric has paid five months salary arrears it owed workers of ARCO Group Ltd., its servicing company.
The Lagos Zonal Chairman of the Petroleum and Natural Gas Senior Staff Association of Nigeria (PENGASSAN),  Abel Agarin, confirmed the payment on Monday.
PENGASSAN had on April 12 paralysed activities of the electricity company in Lagos and in Port-Harcourt over non-payment of the arrears.
PENGASSAN had said that GE failed to honour an agreement it reached with the Minister of Labour and Employment, Dr Chris Ngige, on February 2017, to pay the workers.
Agarin, however, said on Monday that GE had paid the five months salary arrears which accumulated between 2006 and 2011.
He, however, said that GE would still need to pay the workers' demobilisation fee.
"GE has paid the salary arrears. The balance is the demobilisation fee.
"We have to wait for the maturity of the procurement invoice and the April 29 meeting with the minister," he said.
He described the payment as a welcome development.
According to him, it shows workers' victory over the refusal of some employers to pay salaries.
"It will no longer be business as usual for employers who owe workers," he added.
ARCO Group workers are members of PENGASSAN.
Its workers, numbering about 50, worked for GE from 2006 to 2011 in Niger Delta, and were owed about a year salary.
GE paid part of the arrears earlier.