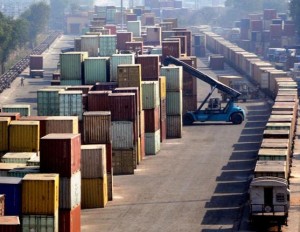 China Harbour Engineering Company (Nig.) Ltd, has expressed its readiness to partner with Atlantique Marine Engineering Services, Edo Inland Container Depot, known as AMES-Edo ICD on export.
The leader of a seven-man delegation of the firm to the state on the invitation of Edo Government, Jason Wang, made this known on Friday in Benin.
Wang and his team also inspected the Gelegele seaport, the operational base of the AMES-Edo Inland Container Depot to assess the work done so far.
Wang said he was impressed and that his firm would look at possible ways of collaborating and partnering with AMES-Edo to drive the project to its earliest conclusion and begin full operation.
"We are impressed with the work done here so far. China Harbour Engineerng Company ( Nig.) Ltd will look at possible ways of collaboration to drive the project to its earliest conclusion," he said.
He said the team was in the state as a follow up to Gov. Godwin Obaseki's business visit to the company in China about three weeks ago where an MOU was signed by the state government and the company to develop the Gelegele Seaport.
Dr Charles Akhigbe, Chief Executive Officer (CEO) of Atlantique Marine and Engineering Services, AMES, the promoters of the AMES-Edo inland container depot, said the organisation was confident that the proposed inland container depot would reduce the cost of export of agricultural produce and increase government's GDP.
Akhigbe disclosed that the port was just three steps from final approval for full operations to commence.
He said the project would create not less than 3,000 jobs for youths and provide the platform for exchange of knowledge between government and foreign investors.
He also said that the container depot would emerge as the pioneer full-fledged inland container depot in Southern Nigeria to commence operation and would immediately serve the need of haulage services.
According to Wang, the company has already commenced negotiation with the Federal Government to build modern railway lines as a primary mode for long distance haulage of cargo, noting that 75 per cent of Nigeria's total export passed through Edo.
"Discussion is ongoing with the Nigeria Railway Corporation to use BOT PPP mode to construct 110km short spur line from Agbor to Edo inland container depot.
"For now the inland container depot will operate 100 per cent by road but in the next 6-10 years, 40 per cent will go by road while 60 per cent will be by rail.
"The phases one and two of the inland container depot would accommodate 12, 000 units of 40ft TEUs and 8,000 units of 40ft TEUs with a maximum of 25,000 TEUs at any given time," he said.