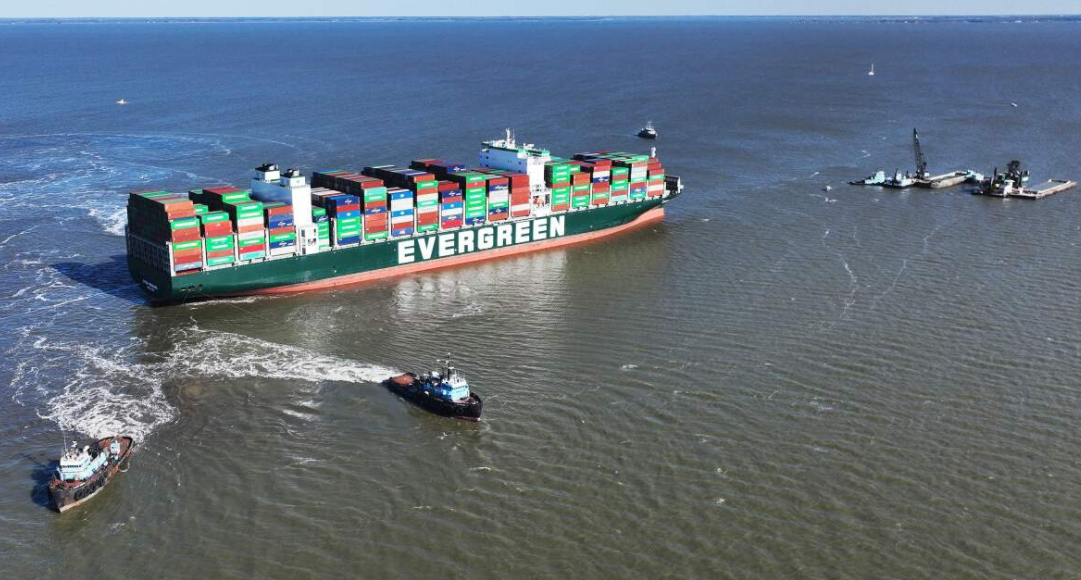 Evergreen Marine, the owner of the stuck Ever Forward, has declared General Average (GA) following two unsuccessful attempts to refloat the ship in Chesapeake Bay.
The latest attempt took place Wednesday hoping to take advantage of a weather system that helped to raise tides about a foot higher than normal. Unfortunately, the refloating attempt was unsuccessful and there did not seem to be any movement of the ship.
In a statement, Evergreen said GA has been declared "in light of the increasing costs arising from the continued attempts to refloat the vessel."
General Average is a maritime law principle requiring that the shipowner and cargo interests proportionately share in the costs associated with rescuing a vessel after a major casualty. When GA is declared, cargo owners are required to contribute to a GA fund before their cargo can be released.
Evergreen also declared General Average following the grounding of the Ever Given in the Suez Canal.
Ever Forward ran aground on March 13 outside the Craighill shipping channel in Chesapeake Bay as it departed the Port of Baltimore with a pilot on board. AIS showed that the ship was travelling at about 13 knots when it exited the dredged channel and came to a stop in about 25 feet of water. Its draft was reported to be 13 meters (42.6 feet).
Two clamshell dredgers have been working to remove sediment from the around the vessel. So far, there has been no work to lighten the ship of fuel, gas or ballast water.
Wednesday night's refloating attempt involved six tugs pulling from the stern. It followed an initial attempt to refloat the ship on Tuesday afternoon—using five tugs. Both were unsuccessful.
Officials have said another attempt will take place April 3-4. If that is unsuccessful, the Coast Guard has indicated that the removal of containers may be necessary.
The 12,000 TEU capacity Ever Forward, measuring over 1,100 feet in length, is owned by Evergreen Marine (Hong Kong) Ltd., a subsidiary of Tawainese shipping company Evergreen Marine Corporation. The appointed salvor in the operation is Donjon-Smit.
The cause of the accident remains under investigation.
So far no pollution or injuries have been reported and the ship's hull remains stable. Luckily, the ship is not blocking access to the Port of Baltimore.
Copyright Ships & Ports Ltd. Permission to use quotations from this article is granted subject to appropriate credit given to www.shipsandports.com.ng as the source.