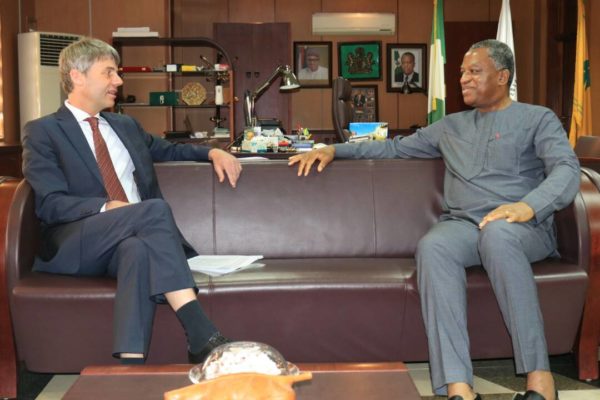 By Patience Danjuma 
Germany has proposed a new system of repatriation called "Return and Readmission" to facilitate the smooth return of about 30,000 illegal Nigerian migrants in that country.
Minister of Foreign Affairs, Geoffrey Onyeama disclosed this Tuesday when he received the Security Adviser to the President of Germany, Dr Jan Hecker, in Abuja.
He said the German government proposed the new plan after the perceived failure of the current system to ensure smooth repatriation.
The current process involves both the participation of Nigerian embassy and consulate and the German immigration office.
"They don't have enough faith and confidence in the process that we have at the moment for the repatriation process. Some of the delays they believed is with the mission and consulate in Germany," he said.
Onyeama said in the last two years, only 200 Nigerians have returned to the country out of about 30,000.
He said the Germans were "not happy" that the current system "is certainly not working to their satisfaction."
According to the minister, the new process essentially entails that once all legal processes have been exhausted, Nigeria should trust them (Germany), to make right decision on whom should be repatriated.
He added that once the decision is taken, Germany would bring the affected persons to Nigeria without the involvement of Nigeria's mission in Germany.
Onyeama said under the new system, the German government would issue travel documents to those to be repatriated and also be responsible for their travels.
He, however, said for the new process to come into being, Nigeria would have to agree and effect some changes in its laws.
"The point I made is to say that it would require changes in our laws of travel documents for Nigerians and our laws to wave any role for our embassies and consulates in the repatriation of Nigerians.
"At the moment our mission and embassies are involved in the process, they issue travel documents when a final decision has been taken for repatriation", he noted.
Earlier, Jan Hecker, said he was in Nigeria to see how both countries can intensify their bilateral relations and achieve good result, particularly on the issue of migration. 
Copyright Ships & Ports Ltd. Permission to use quotations from this article is granted subject to appropriate credit given to www.shipsandports.com.ng as the source.