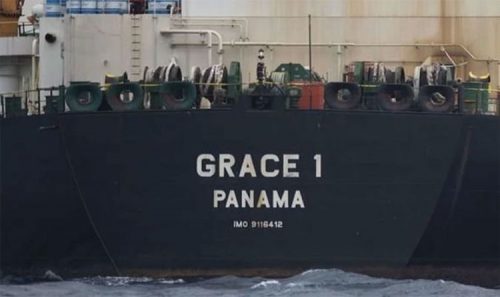 Gibraltar and the UK would facilitate the release of the detained Iranian crude oil carrier Grace 1 if there are guarantees the ship would not be going to Syria.
UK's Foreign Minister Jeremy Hunt communicated this to Iranian Foreign Minister Mohammad Javad Zarif after being asked by Gibraltar's Chief Minister Fabian Picardo to do so.
"I … asked Foreign Secretary to clarify to the Iranian authorities on my behalf that all the decisions made by Gibraltar in respect of the detention of the Grace 1 were made exclusively with a view to the Syrian destination of the vessel, the Baniyas oil refinery which is subject to EU sanctions, and without any regard to the origin of its cargo," Picardo explained.
"That was the exact basis on which the United Kingdom Armed Forces, through a detachment of Royal Marines, were deployed to provide military assistance to our authorities last week."
According to Hunt, FM Zarif said that Iran wanted to resolve the issue and was not seeking the situation to escalate.
Earlier this month, Gibraltar authorities and British Navy's Royal Marine detained the 300,000 dwt vessel believed to have been carrying crude oil to Syria. Laboratory tests confirmed that Grace 1 had 2.1 million barrels of light crude oil on board.
Police in Gibraltar arrested last week the captain, chief officer and two second officers of Grace 1 due to a suspected violation of EU sanctions against Syria. All four men were subsequently released, the police confirmed.
However, Iran claims that the seizure of the tanker is not lawful as the country is not an EU member.
Iran is neither a member of the EU nor subject to any European oil embargo.
Meanwhile, the UK has announced that it would send another warship to the Gulf region to boost its maritime security presence there and ensure freedom of navigation for vessels transiting through the shipping lane. 
The country would deploy HMS Duncan to take over from HMS Montrose which is due for routine maintenance.
Tensions are rising as Iranian boats allegedly tried to seize a British oil tanker in the Persian Gulf last week. The attempt to divert the British tanker was unsuccessful after HMS Montrose issued a verbal warning to the Iranian authorities to withdraw.  
Copyright Ships & Ports Ltd. Permission to use quotations from this article is granted subject to appropriate credit given to www.shipsandports.com.ng as the source.