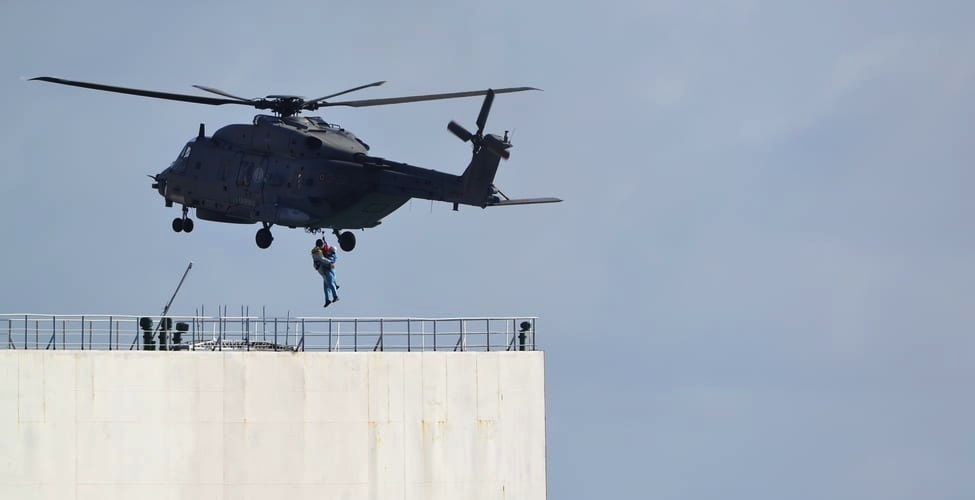 The Italian Navy came to the rescue of an injured crewman aboard a heavy lift ship after the vessel was attacked by pirates in international waters in the Gulf of Guinea this week.
The attack occurred November 13 against the Zhen Hua 7, a heavy lift ship registered in Liberia.
Maritime security firm, Dryad Global, said the vessel was boarded by pirates while it was drifting approximately 78 nautical miles northwest of Sao Tome in the Gulf of Guinea.
The attack resulted in the kidnapping of 14 crew members, Dryad said.
After the attack, the Italian Navy ship Martinengo, which was patrolling in the region, was informed that a crew member of the Zhen Hua 7 had sustained leg injuries. Upon arriving on scene, a boarding team from the Martinengo boarded the heavy lift ship to ensure the safety of the remaining crew and provide medical assistance to the injured seafarer.
The frigate's helicopter ended up airlifting the victim to a hospital in Sao Tome to receive additional medical treatment.
According to Dryad, the kidnapped crew of the Zhen Hua 7 were among 19 seafarers kidnapped by pirates in two separate incidents this week in the Gulf of Guinea.
In addition to the Zhen Hua incident, Dryad also reported the AM Delta, a general cargo ship registered in Ghana, was boarded by pirates approximately 44 nautical miles from South Brass, Nigeria on November 16, resulting in five crew members being kidnapped.
The incidents marked the eight and ninth piracy incidents in the Gulf of Guinea in November alone as piracy surges in the region, according to Dryad.