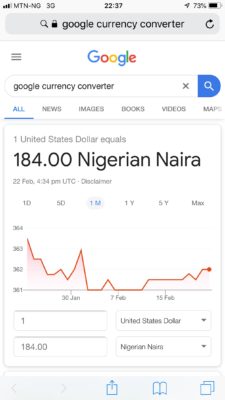 There appears to be a major problem with Google currency converter, which listed Nigeria's local currency, the Naira, as going for as high as N184 to the US dollar on Friday. 
The Central Bank of Nigeria (CBN), however sold the greenback to Bureau de Change (BDC) operators at N357 per dollar on Friday, while the BDCs in turn sell it for N360 to buyers. 
A Lagos-based BDC operator, Aliu Hassan, told SHIPS & PORTS DAILY that the Google figure was incorrect, stating that "something must be wrong with their system". 
Many Nigerians became apprehensive yesterday and took to various social media platforms to express misgivings about the Google blunder, less than 24 hours to the country's presidential and National Assembly elections 
The Google currency converter however correctly listed the exchange rate of the Naira to the British Pound Sterling as N472.30. 
The Naira on Friday gained N1 to close at N358 to the dollar at the parallel market in Lagos.
The local currency traded stronger on the eve of elections than Thursday when it closed at N359 to a dollar.
The Pound Sterling was sold at N470 and the Euro at N408.
At the Bureau De Change (BDC) segment, the Naira traded at N360 to the dollar, while the Pound Sterling and the Euro closed at N470 and N408.
Trading at the investors window saw the Naira closing at N361.49 to the dollar as market turnover stood at USD292.34 million.
Traders said that the demand for the dollar was low as the market was already in an election mood.   
Google has not responded to an inquiry sent to it by SHIPS & PORTS DAILY on the glitch.